Facebook introduces 'Facebook Campus'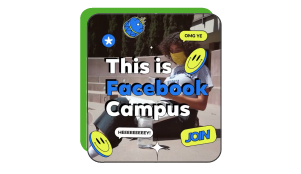 School season is back! Online school, that is.
The COVID pandemic has relegated most of our normal activities to the digital sphere, school being no exception. The university experience, specifically, is way more than just classes and unfortunately the digital version does not match the physical one.
Facebook thinks otherwise, however. The platform is introducing 'Facebook Campus' a new section dedicated to bringing the university experience closer to home.
According to Facebook, these are the features that will set the Campus section apart:
Campus-only News Feed: Campus is a college email-verified space designed for students to get updates from classmates, groups and events in a college-specific feed. Students can create study groups, plan virtual concerts or ask for advice with college-only Groups and Events.
Campus directory: College is about finding your people, so we created a classmates directory to make it easy to find and meet new people. Like in the early days when Facebook was a college-only network, students can find classmates by class, major, year and more.
New ways to chat: Campus Chats are real-time chat rooms. Students can create chat rooms for their dorm, clubs or any other groups they're part of within Campus.
Learn more here.