Facebook to boost performance of their Shops tab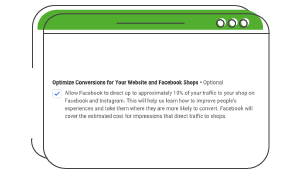 As we have seen not only with Instagram but also with literally all other major platforms, nailing eCommerce is a crucial objective for this year. So even though Facebook has a well-established Marketplace where users and buy and sell their products, the Menlo Park giant is seeking to establish their B2C services, too.
Last week, a digital advertising expert found a notice from Facebook asking advertisers to opt in to a test which would direct up to 10% of their traffic to their shop on Facebook platforms. In turn, this will serve the platform to find out what is the most reliable path to conversion for Pages.
Although technically this is neither a new feature nor a new mechanic, it is definitely a statement of purpose from Facebook about they will prioritize in their platform—and so, if your business doesn't have a FB Shop, maybe it's time to consider setting one up.
Learn more here