Facebook to redesign Ad Preferences panel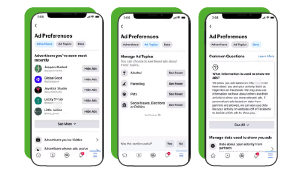 Have you ever bought a product from, or simply interacted with a Facebook ad, only to continue seeing the ad or similar ones for months afterwards?
Then this is for you! Facebook is rolling out an update to its Ad Preference control panel that is going to make it easier for you to avoid those pesky or irrelevant ads from specific businesses and topics.
The idea behind the redesign is convenience and simplicity. To help you better navigate the control panel, Facebook has divided it into three tabs:
Advertisers: where you can see in detail the businesses that show you ads and where you can choose to hide ads from specific brands
Ad topics: where you can manage which ad topics are shown to you and choose if you want to see fewer ads from some of them
Data: where you can review how Facebook uses your data to give you ads that might interest you
Learn more here.