Instagram adds livestream scheduling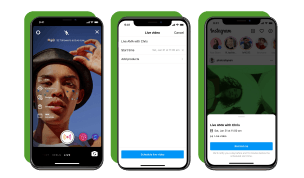 Good news for content creators!
Live-stream broadcasters on Instagram will now be able to schedule their streams for up to 90 days in advance. This new feature will then allow followers and viewers to set reminders to tune in to their favorite creators' live content.
This increased promotion time will enable creators to improve their reach, as live stream events will not be limited to the time of the actual stream, but rather weeks or even months prior to the event, allowing more people to hear about it. This feature will also let more people to tune in to live streams, as they will know when their favorite creators are going online and will make time to see it. Furthermore, this tool comes in alignment with Instagram's efforts to develop eCommerce tools, where the broadcasters will be able to feature product tags in their scheduled post.
As for brands and businesses, they can now possibly introduce new products and features in a scheduled live post, allow time for people to develop interest, and then officially introduce it in a live stream. Such a strategy would develop conversation and build anticipation that would likely increase product reach.
Learn more here