Instagram opens Reels API access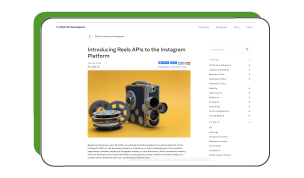 Community Managers, rejoice!
Meta has announced that it is opening Instagram Reels API access to third-party tools. This will simplify tracking, scheduling, analyzing, and moderating the social posts.
Meta announces the new feature as follows:
'Beginning tomorrow, June 28th, 2022, we will begin introducing Reels to several endpoints on the Instagram Platform. We are always looking to improve our content publishing and consumption experiences, whether people use Instagram natively, or via a third-party. After consistently hearing from our developer community that Reels is a top priority, we are excited to introduce Reels to a number of the endpoints that you may already be familiar with.'
The new processes will become fully accessible by July 6th, 2022, stay tuned!
Learn more here.