LinkedIn rolls out new conversation and post controls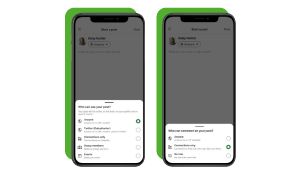 Last year, LinkedIn launched polls and, most notably, its own version of Stories, features that had been already successfully implemented by the traditional big platforms. LinkedIn, then, was a following a trend of feature imitation—if it works elsewhere, copy it.
This update is no different, and this time the inspiration is directly taken from Twitter, as the business platform is introducing a new tool that will give users greater control of their posts interactions as well as their feed visibility.
With this update, LinkedIn users can decide who can:
See their posts, with options being anyone, connections only, group members, or event members
Comment on their posts, with options being anyone or connections only
In addition, users can hide individual posts and mute individual users and pages from their feeds.
Contrary to our reaction regarding LinkedIn Stories, we think this is a good update that brings useful features from other platforms. Hide all those corny inspirational stories with ease!
Learn more here.