SOCIAL RECAP: DECEMBER 2022 TRENDS & PLATFORM UPDATES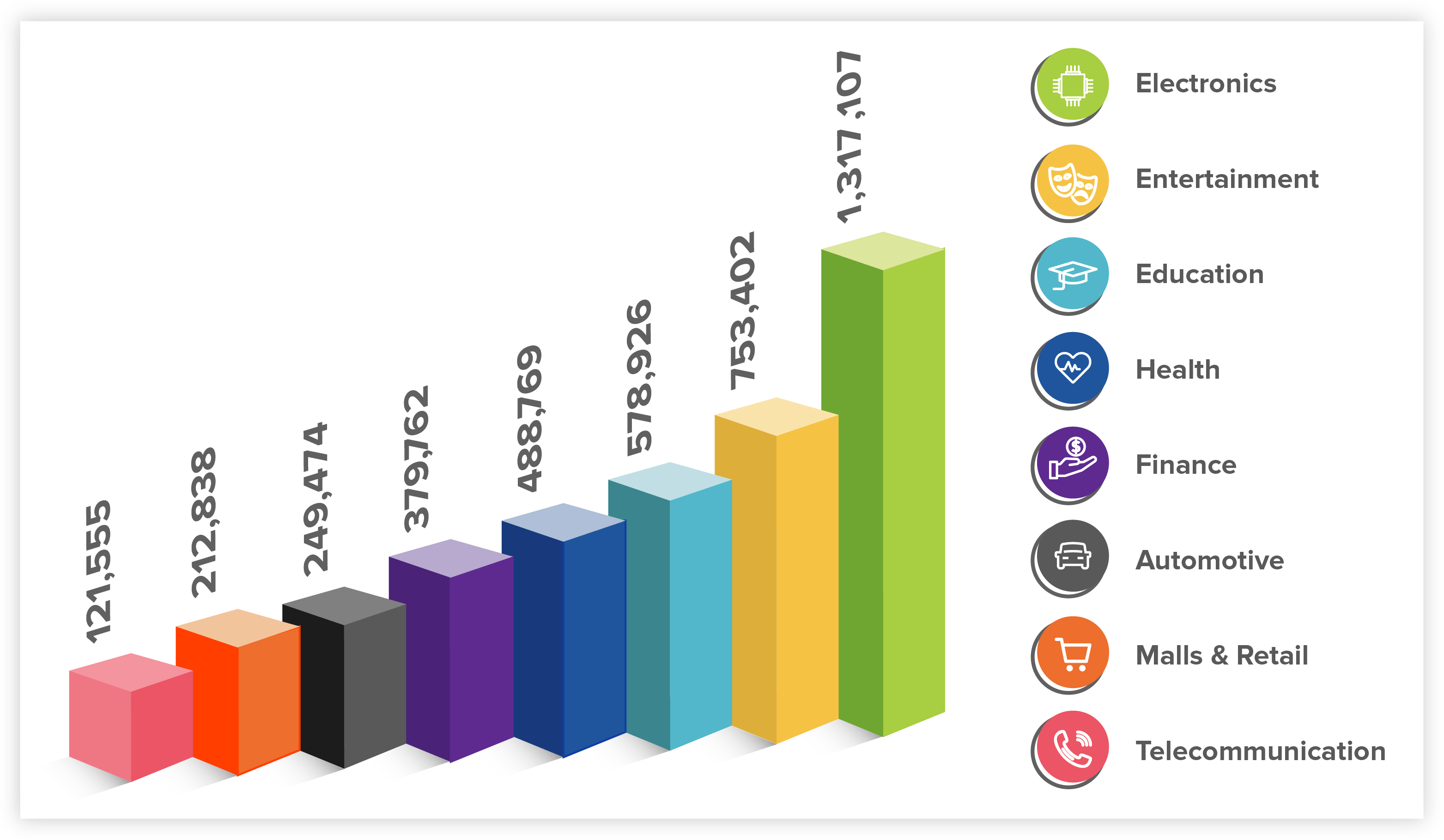 Every month, Netizency identifies a group of Arabic and English keywords from different industries in the region, classifies them according to the volume of mentions, and analyzes the topics of conversation across all social and online media.
While all the categories witnessed an increase in conversations during December, their rankings remained unchanged from the previous month. Between the 1st to 31st of December, Electronics, Entertainment, and Education dominated the GCC online scene. Health, Finance, Automotive, Malls, Retail, and Telecommunication were next in line.
What's all the buzz about? Read on and find out!
Top Themes
Electronics
Gaming events, NFT activations, and electronic payment methods topped the trending conversations in this category during the month of December. Let's jump into the details!
Gamers are a passionate bunch as evidenced by the spikes we've seen in the social chatter surrounding The Game Awards 2022 ceremony. GCC gamers were actively debating online which game would take home the trophy—some were sure that it would be Elden Ring, while others were rooting for God of War. It was the former that walked away with the 'Game of the Year,' honors. Videos and snippets of the ceremony along with game reviews were widely shared on social media. But there were other 'unconventional' moments during the event that sparked conversations even further. The first one was about Christopher Judge, the actor who played Kratos in God of War: Ragnarök. He walked away with two unique achievements that night; one for Best Performance by an Actor and another for setting a new world record for the longest thank-you speech at an award ceremony. He spoke for 7 minutes and 59 seconds—lasting longer than The Lord of the Rings trilogy! The other instance that birthed a lot of memes on social media this month is when a random person suddenly interrupted the end of the ceremony, took the microphone, and said something about nominating Bill Clinton for a gaming award! Yes, it was weird and we were as confused as you were when we first saw the footage!
Coffee and NFT are two things that are typically consumed separately, but that is about to change. The hype has been brewing over Starbucks entering the Metaverse with the beta launch of "Starbucks Odyssey', their new NFT reward program. The coffee giant opened access to its loyalty program, allowing early participants to engage in interactive activities that would net them NFTs to unlock access to a range of exciting virtual branded experiences. Users were excited that the chain was going high-tech and entering the Web3 era for their loyalty program, sparking a range of online chatter in the GCC. We can't blame them, it's pretty cool actually! Side note, we are having serious cravings for Iced White Chocolate Mocha right now – talk about Magic Bullet Theory!
Additionally, 'E-wallet' was another top word in the Electronics conversations this month sparking some lively debates. Apple Pay is now officially available in Kuwait. Techies welcomed this news and rushed to post 'How-to' Reels about the feature. This in turn received hundreds of questions from users about its benefits and usage. Some UAE-based users left comments showing their surprise that Apple Pay was only just now made available in Kuwait since they've had it for quite some time. Bahrain, on the other hand, said hello to Apple Pay's contender, with the Bank of Bahrain and Kuwait announcing the launch of Samsung Wallet service for all its customers. Comments under relevant posts showed mixed reactions from the community. Some users were eager to activate their Samsung Wallet, while others recommended it. Some complained about the extra charges they incurred compared to traditional payment methods, while others posted about the problems they faced when activating it. Between advocates and detractors, from where the social conversations stand at the moment, it could take a while before the masses embrace e-payments.
Let's proceed to the Entertainment section now, shall we?
Entertainment
To the surprise of no one, the FIFA World Cup 2022 maintained its dominance of all things Entertainment this month similar to November. Online chatter and memes were never higher, covering Messi's last dance for his country facing France in the final and 'Salt Bae' kind of embarrassed himself after pestering Messi for clout and yanking his way into a photo. Football aficionados were also sharing snippets of Morocco's midfielder Sofiane Boufal celebrating with his mother after qualifying for the next round by defeating Portugal, as well as Achraf Hakimi's Penguin Dance – a sight to behold – in celebration of his sumptuous Panenka that put Morocco into a World Cup quarter-final for the first time ever. The World Cup was great fun while it lasted, and now we are left with nothing but the lingering memories of a truly exciting spectacle. How will we get through our menial existence without it?
December was home to several national occasions in the Gulf including UAE, Qatar, and Bahrain National Day, all of which fueled the online hype around Entertainment to the next level. Each country was running heightened celebration festivals and entertainment events on its respective national day inspiring more and more social media posts. We've seen posts coming from users, brands, influencers, celebrities, and news publications, with everyone posting greetings and wishes for the three countries hoping for more accomplishments, security, and prosperity. What's worth mentioning is Vodafone Qatar's 'Together We Can' video the brand posted to celebrate the country's National Day, which has stood out from the clutter and garnered high shares on social media. Coinciding with the closing ceremony of the World Cup, the video goes to counter all the negative claims that were highly shared pre and during the World Cup about Qatar's inability to host a high-standard season by showing how in reality it did more than that. It was a beautiful and inspiring video to watch embodying the spirit of national pride. The comments it received showed that users were in awe of that and responded with patriotic glee. Who wouldn't?!
Some things take time, a really long time…but this one was worth all the wait. Yes, we are talking about Avatar: The Way of Water! A wave of Entertainment conversations this month was focused on this sci-fi epic after finally showing in the cinemas 13 years after the premier of the first film. You thought people got over the original that debuted back in 2009? Well, my friend, you are wrong! Movie addicts in the GCC were sharing their reviews as well as stats about the movie setting a historic box office milestone by earning approximately $1.4 billion worldwide. Beauty influencers have also jumped on the conversation by creating blue makeup looks inspired by the movie's aesthetics. In the event you haven't seen it yet, we advise you to bring lots of snacks because it's more than three hours long! But with an 8/10 IGN rating, it really should be worth the time and snacks consumed!
That's it for the Entertainment section. Let's see some nuggets of wisdom as we move on to the Education trending conversations.
Education
Oddly enough, the World Cup inspired a lot of chatter in the Education conversations this month, and not just across Entertainment. How, you ask? We will happily explain! Messi and his teammates rejected a 5-star hotelstay for the duration of the World Cup, instead opting for a student dorm at Qatar University. Sure, they chose it because it has great facilities, as does a luxurious hotel, but that is not the main reason! It's because it has an open-air space that will allow them to host their traditional barbeque dish, Asado, as they train for the performance of their life. Well, they did land the prestigious World Cup title, so kudos to them and to Asado! Furthermore, photos of Qatar University and the campus that hosted the Argentine national team have surfaced on social media, where the University announced that Messi's room at the campus will be turned into a museum to immortalize the feat! Joys and hoorays were all over these posts from the GOAT's fans.
Additionally, the Mohamed bin Zayed University of Artificial Intelligence graduates festival received an interesting buzz during the month across this category. Photos of the graduates and key celebratory moments at the festival were shared on #Mbzuai2022, sparking high positive sentiments from the community. Users were specifically fond of Anas Bukhash, an Emirati entrepreneur, who gave a heartfelt speech at the festival loaded with inspirational advice encouraging graduates to take risks and believe in themselves as they conquer the real world and hunt for their dream job.
Certificates are something that the majority of us strive for – they are signs of hard work and achievement. They give a sense of pride especially when given to those who are doing something for the betterment of this world and people… all people. On that note, The Department of Public Parks & Recreational Facilities in Dubai Municipality was awarded the Autism-Friendly Certificate (AFC) for several recreational facilities during December, including Dubai Frame, Children's City, and Quranic Park. Users were applauding this award especially because it shows the destinations' keen interest in People of Determination. Conversations around the same showed users' interest in the wider distribution of knowledge and training in schools, corporate, and commercial destinations related to the skills required to deal with people of determination (we second that!).
And that's it for our December recap! You can always stay on top of the latest social media updates and trends, and see samples of the work we do for our clients on social media by signing up for our exclusive weekly newsletter.
Predicting what will happen next in the social media verse is like trying to predict the plot of a soap opera—it's very tough and there are always unexpected twists and turns.
As we compiled the top headlines for December, we found three areas of focus that repeatedly emerged across this month's social updates. These were transparency, subscription-based features, and the removal of unpopular features. From Twitter and Meta shutting down 'Revue' and 'Super', to Snapchat adding options to boost the content visibility of its Plus subscribers, and TikTok rolling out the 'Why you are seeing this video' label, social media platforms are surely taking a step back and focusing on what matters as we start the new year.
We've listed down the latest updates per social platform that were announced during December right here, in a tasty platter of digital delight. Dig in!
Twitter
Implements a view count feature for all tweets
Improves its recommendations algorithm.
Updates its Blue verification subscription fees.
Rolls out Community Notes globally.
Adds new ad placement controls.
Shuts down Moments.
Bans live-location sharing.
Dumps its newsletter platform, Revue.
Removes device labels from tweets.
Introduces Blue for Business subscribers.
Changes the avatars of brands to squares.
Prioritizes Blue subscribers in search rankings.
YouTube
Rolls out Shorts thumbnail selection on Android.
Updates insights metrics on desktop.
Improves spam detection on comments and live chat.
Instagram
Tests more BeReal-Esque prototypes.
Adds justifications for shadow-banned content.
Tests more labels to DMs for business accounts.
Rolls out 'Candid Stories'.
Adds Hacked Hub for access issues.
TikTok
Tests a new horizontal full-screen mode.
Adds 'Why you're seeing this video' label.
Announces its Creative Agency Partnerships (CAP) University program.
Google
Incorporates YouTube into its Search Partners network.  
Meta
Introduces ads on Facebook and Instagram to target Instagram followers.
Shuts down Super.
Allows users to turn Facebook Stories into Reels.
WhatsApp
Introduces the 'Message Yourself' feature.
Enable users to undo 'Delete For Me'.
LinkedIn
Rolls out features to boost newsletter and Product Page discoverability.
Enhances Competitors' Analytics dashboard.
Snapchat
Rolls out 'Story Boost'.
Announces a new range of key AR advances.
*This article was originally published by Communicate ME as a two-part piece. Access the trends part here and the platform updates part here.