TikTok to host 1st global summit for business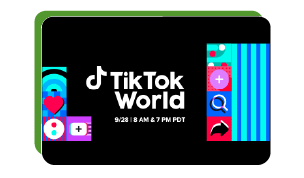 It is tradition and good business practice for companies competing in the big leagues to host events once a year to talk directly to their developers, business partners and investors. For instance Facebook has F8, Snapchat has the Snap Partner Summit, and the most famous of all is Apple's World Developer Conference.
And now, it's TikTok's turn to announce its first event dedicated to business users and partners. The event, named 'TikTok World', will be held on September 28th and will focus on exploring the "future of creativity, community and commerce".
The platform is likely going to center in on new advertising and eCommerce options.
TikTok had this to say about the event:
The event will introduce new creative, branding, and commerce solutions and more. For our current partners, we hope to share an entirely new stream of opportunities to tap into. For partners just joining us, you'll find that TikTok is the platform to connect, move, and entertain today's consumers, and more importantly, why you should start on TikTok.
Learn more here