Twitter beefs up mobile account security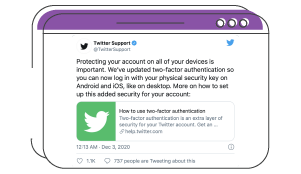 Remember the Twitter bitcoin hack that affected several high-profile users like Elon Musk, Kanye West, and Jeff Bezos back in July? Well, Twitter definitely hasn't forgotten.
In an effort to increase the security (and user confidence) of Twitter mobile accounts, the platform is allowing the use of physical security keys as part of 2-factor authentication on iOS and Android. Standard forms of 2-factor authentication are commonplace now for social media platforms, as easy as getting a code as text message or using a 3rd party app like Google Authenticator or Authy.
However, you can now increase the security of the second factor (the first factor being your password, of course) by switching from a digital key to a physical key in order to log in to Twitter on mobile. This update is great news for managers of corporate social media accounts—charge a couple of these to your clients for the assurance that their accounts are well-protected.
Learn more here.