Twitter launches first paid subscription service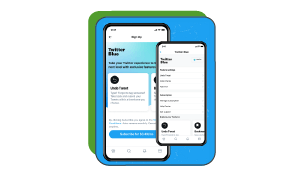 After months of anticipation and plenty of discussions, Twitter's first paid subscription service is finally here. This service marks a turning point for the platform as it starts introducing a wave of new features aimed at increasing its monetization—and thus profitability
Let's not forget that even though Twitter is lumped alongside Facebook and Instagram as 'the' mainstream social media platforms, the former's market cap is a relatively meagre USD 49.9B compared to the latter's colossal USD 949.1B. It makes sense that Twitter as a company would want to leverage its outsized social influence to increase revenue.
Called 'Twitter Blue', the service will allow users to access special features including:
Bookmark Folders: Organize saved tweets
Undo Tweet: Customizable timer of up to 30 seconds to 'undo' sending a tweet
Reader Mode: Reading experience that gets rid of the noise
Other perks: Customizable app icons and different color themes, among others
So far it's only available in Canada and Australia for $3.49 CAD and $4.49 AUD, respectively, per month. How this will change the overall user experience and advertising impact will be revealed soon enough.
Learn more here