Twitter revamps trending topics visualization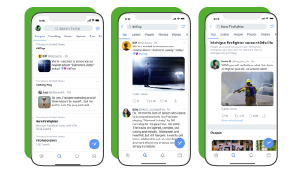 Twitter trends can be confusing. How many times have you found odd phrases or words in the list of trending topics?
For example, only football fans would know that the hashtag #MADBAR refers to a match between Real Madrid and Barcelona. Or only those interested in politics would know that #PMQ is about asking questions to the Prime Minister.
But this shall be an issue no longer! Twitter is rolling out a new update that will revamp how users visualize trending topics. The first change is the addition of 'representative tweets':
"Starting today, some trends will have a representative Tweet pinned to them to give you more insight about a trend right away. A combination of algorithms and our curation team determine if a Tweet represents a trend by evaluating if the Tweet is very reflective of the trend and popular."
The second change is the introduction of 'trend descriptions':
"In the coming weeks, you should see brief descriptions added to some trends as well to help add context to the trend. Descriptions will provide straightforward, clearly sourced context around why something is trending."
None of this, though, will guarantee that trends make sense in the first place!
Learn more here.