Twitter to show you 'suggested Fleets' from people you don't follow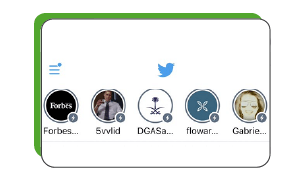 Less than two weeks ago, Instagram announced the testing of a function that would show you 'recommended posts' from accounts you do not follow in your timeline. This week it's Twitter that is doing something very similar, but with Fleets.
Although not officially announced, social media experts have found that some users are seeing Fleets from people they do not follow. The sightings show that these 'suggested Fleets' appear with a ⚡symbol in it, likely signifying they are either suggested or promoted.
Twitter is now the latest platform to add more algorithmic recommendations from content outside the accounts you follow—a trend pioneered by TikTok's industry-breaking For You Page. Given their success (if done right), we expect more and more of these features to come to your favorite platforms sooner rathet than later.
Learn more here