Instagram to extend max video length for Reels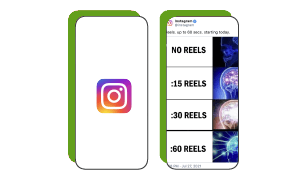 If we are to measure the maturity of short-video platforms with the maximum length they allow for their videos, then Instagram Reels just celebrated their digital birthday.
Just last week, Instagram announced the extension of Reels' maximum video length to 60 seconds, showing, if anything, that they are serious about pouring resources into the TikTok competitor—and having the confidence (or the hope) that their creator community will enhance their content with this update…
…or that they will only require three Reels to equal TikTok's longest videos, now that the Chinese platform also recently extended its maximum video duration to three minutes. Only time will tell!
Learn more here