Pinterest launches max width video ads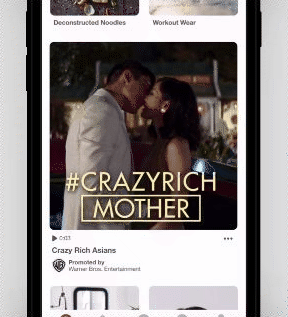 Pinterest has officially launched its 'max width' video ads to all advertisers globally after a few months of testing them out.
According to Pinterest, the test has revealed promising results:
"We're thrilled to announce that Promoted Video at max. width is available for all Pinterest advertisers. Videos at standard width are the same size as all other Pins on Pinterest and videos at maximum width are ~4x bigger, spanning across Pinterest's iconic two-column grid. In this case, bigger does mean better: we've seen increased engagement rates for this format as Pinners take notice of this high-impact video."
Thus, the new option is expected to capture engagement, and help increase brand awareness as well as purchase intent. Pinterest has provided some tips for marketers who want to utilize the new ad format, namely:
Videos should include a logo and strong branding, ideally visible in the first few seconds. People will engage even more if products are integrated into the video.
Instructional videos tend to generate longer watch times and people save them more.
Keep your videos short, simple and focused on a key idea or message. 6-20 seconds is a sweet spot.
While it seems that not many marketers are considering Pinterest as a powerful advertising tool, it might be the right time for them to put it on their radar and make use of its latest updates.
Read more here.