YouTube adds new insight analytics to YT Studio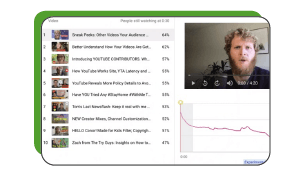 If you thought that YouTube Studio was already well-equipped in all possible video metrics, well, you were wrong!
The first round of updates from last week is directed towards expanding insights on audience retention. Namely, YT Studio now has a 'typical' retention comparison line, which shows the average retention performance of your channel's content marked by length. The platform is also adding comparison charts that you can sort according by how well your videos performed in their intros, top moments, spikes, and dips.
The second round of updates goes further into audience data to create a new list formed by 'Top videos growing your audience'. This feature will, as the name suggests, show you which specific content piece made your viewers come back to watch even more of your videos.
Overall this seems like a great update offering even more in-depth insights on how to make better content. Don't forget to use it!