LinkedIn launches AI-powered 'Collaborative Articles'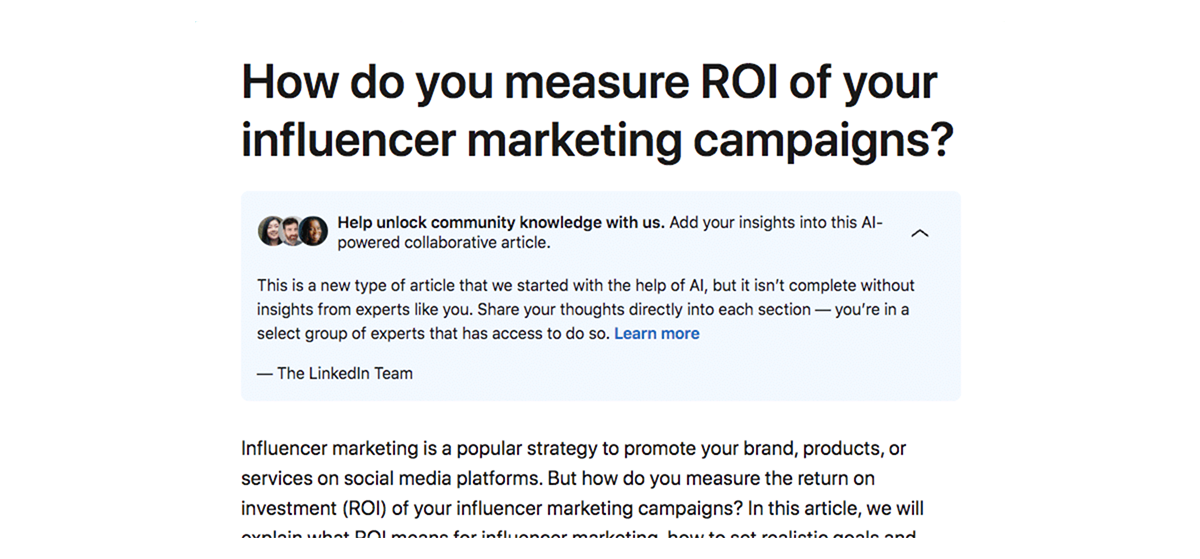 LinkedIn is also edging towards infusing its features with more AI, its latest move being the AI-prompted 'Collaborative Articles'.
The gist is that LinkedIn's editorial team sets the prompt and feeds it to the AI-powered algorithms to generate the article's body of text. Essentially, the AI does the work for you instead of having to scratch your head for that perfect topic.
Next, every article will be matched with specific members whose expertise are deemed relevant, as decided by LinkedIn's Skills Graph.
Readers can request access to share their own perspectives by liking the AI-created piece they're viewing or reacting to it.
To sustain the hype around its newly-found project, LinkedIn will also be adding a new 'Community Top Voice' badge called 'Collaborative Articles', valid for 60 days only, as an extra incentive to keep the contribution wheel rolling.
This really could be a shot at gaining wider, more genuine visibility and a valuable boon for marketers.
But spam, spam and more spam is a glaring red flag here. And expect irrelevant hard selling blowing up in the comments. Plus, who will reward writers for their free content?
In the meantime, you can read more here.