Snap introduces Snapchat Trends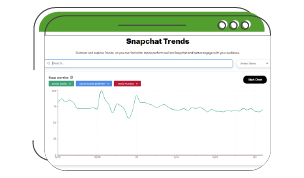 If your brand creates Snapchat content, or if you want to be up to date with local trends and conversations, Snap has made it easier to access unique organic insights from the top content on the platform.
Aptly called 'Snapchat Trends', the new site will:
"Highlight the most popular keywords shared with the Snapchat community via public Stories and My Stories that have been viewed by a large group, in addition to a searchable database of terms."
Snap has also taken the time to underscore the business benefits of Snapchat Trends' usage. In a particularly interesting example, Snap talks about how the site does not only improve market research but also regular copywriting:
Recently, we saw a 100% increase in mentions of the phrase "third-wheeling." After digging deeper, we found it actually was a recurring trend that peaked almost every Friday and Saturday. For the online dating industry, this language trend has been used as directional insight to help fuel new and relevant creative on Snap.
Learn more here