TikTok adds new sound partners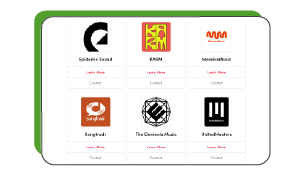 TikTok has disrupted the "sound-off" trend that has gained popularity in previous years, where users grew accustomed to watching videos with audio off.
This is no longer the case with TikTok's latest research showing that 88% of users confirming that sound is essential to their platform experience. As such, creating videos with audio as a primary creative driver is a must for brands to resonate with their audience on TikTok.
On that note, TikTok is introducing six certified Sound Partners in an aim to help brands create sound-on strategies to drive better engagement on the platform.
As explained by TikTok, the new sound partners will offer solutions within two sub-specialties:
Custom Sound partners create bespoke tracks that inspire community participation and excitement around Hashtag Challenges, campaigns, and much more
Subscription Sound partners offer flexible music offerings through monthly, yearly, or project-based licensing plans that enable brands to develop always-on strategies for TikTok
You can visit TikTok Marketing Partners website and directory to learn more and connect with TikTok's sound partners.
Learn more here.