TikTok adds usage tracking tools to improve digital wellbeing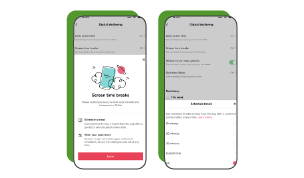 TikTok has added tools that allow users to monitor their TikTok screen time. This includes break reminders as well as an entirely new dashboard for tracking the time spent on the app.
The app has included an option that lets users schedule break reminders in 10, 20, or 30-minute intervals so that they don't spend too much time on it.
It is also implementing compulsory reminders for users between the ages of 13 and 17 when they use the app for more than 100 minutes a day.
While these reminders are alerting people about the extents of their activity and screen time, this is a significant step toward reducing addiction and other issues related to the overuse of such platforms.
TikTok is also launching a guide on digital wellbeing to help users find a balance, understand better, and gain more control over the time they spend on the app.
Learn more here.