Twitter eases Revue Newsletter subscription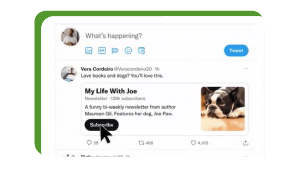 Twitter recently revealed a new feature that will allow users to sign up to Revue newsletters directly from tweets. After previously enabling creators to place a 'subscribe' button to their profiles, the new Revue newsletter subscription card goes one step further and allows creators to increase their newsletter sign-ups.
Revue is a public newsletter service that allows writers to easily create and publish newsletters. The platform was acquired by Twitter earlier this year, where it started integrating subscribe options into the app to elevate the creators' performance.
Like other new Twitter features, this feature comes within Twitter's broader efforts to push creator monetization on the app. While this feature is aimed at helping writers and publishers reach wider audiences and monetize their content, this tool can also be used by businesses.
Businesses can link their newsletters to Revue, where they will then be able to place the subscribe option right on their official Twitter profile and in their relevant tweets. This will allow established businesses to expand their newsletter base and hence reach a larger audience.
Learn more here