Twitter tests a new layout for replies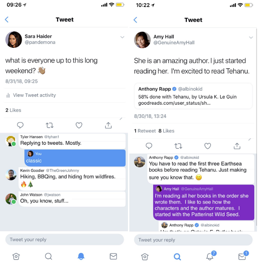 Twitter is experimenting with a couple of new variations for tweet interaction in an effort to boost engagement.
As shown in the image above, Twitter has a new layout mock-up in place, which includes the following changes:
Threaded replies to individuals' responses to see who's responding to what within a tweet reply chain
Color codes changed to purple for responses from the original tweeter, and blue for users' reply
Green dot on profile image to indicate when a user is active, which can be turned off
These changes are not final, Twitter's official is asking users for suggestions to make the new layout more conversational.
Read more here.