Facebook audio rooms become available worldwide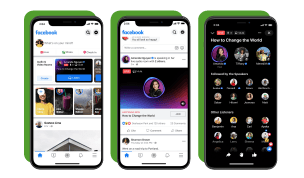 With the rising interest in audio social features, Facebook has been trying to keep up with features like Twitter Spaces and apps like Clubhouse, which offer interactive live audio chat rooms. This feature was introduced in the US a few months ago and is now available to content creators worldwide.
As explained by Facebook:
"From today, all verified public figures and creators will have the ability to host Live Audio Rooms. We've seen it become a great tool for lightweight connection and conversion among various types of communities."
In aims to reduce noise and make it more efficient to highlight unique content, this feature will only be available for use by public figures and verified accounts. This is good news for content creators, as they will now be able to easily increase direct engagement with their audience.
Furthermore, Facebook will be offering a specific tab for different types of audio formats, to improve the discoverability of audio content. This tab will be useful for businesses and brands that are aiming to capitalize on the popularity of audio content and experiment with live audio rooms, audio clips, or podcasts.
Learn more here