Facebook begins testing social audio features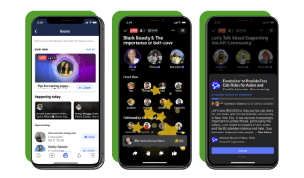 Zuckerberg himself warned us back in February, and last week we finally saw it (in testing, at least): Facebook got its Clubhouse clone.
Called Live Audio Rooms, the audio-only feature is currently under testing in Taiwan, one of Facebook's most important markets with celebrities and public figures and more markets will come throughout the summer. Even though the arrival of audio rooms came uncharacteristically late for Facebook, it is just the first step in a bigger strategy to bring social audio features compared to other platforms—a characteristically comprehensive approach for the Menlo Park giant. According to the platform:
At Facebook, we've invested in the full spectrum of audio technologies to solve these problems. From audio quality enhancements, captions, speech translations, and superhuman hearing, our goal is to make audio presence easy, natural, and immersive so you can more fully experience social presence.
Learn more here