Facebook introduces new analytics features
Facebook has announced new analytics features at F8, its developer conference in San Jose.
Facebook launched a tool that can track customer journeys through multiple channels, called 'Journeys'. It provides omni-channel data and reporting that allows marketers to get a holistic view to understand what users do right before they take an action and/or complete a purchase. Here's what it looks like: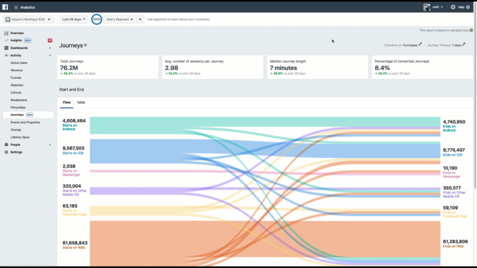 Source: Facebook blog
Facebook introduced additional analytics tools that provide more automated insights through machine learning, offering marketers quick and smart insights about their business. A few examples of these tools are: Auto-Detected Funnels, Funnel Conversion Insights and Insights based on Custom Parameters.
Read more here.