LinkedIn introduces 3 new Lead Gen Form options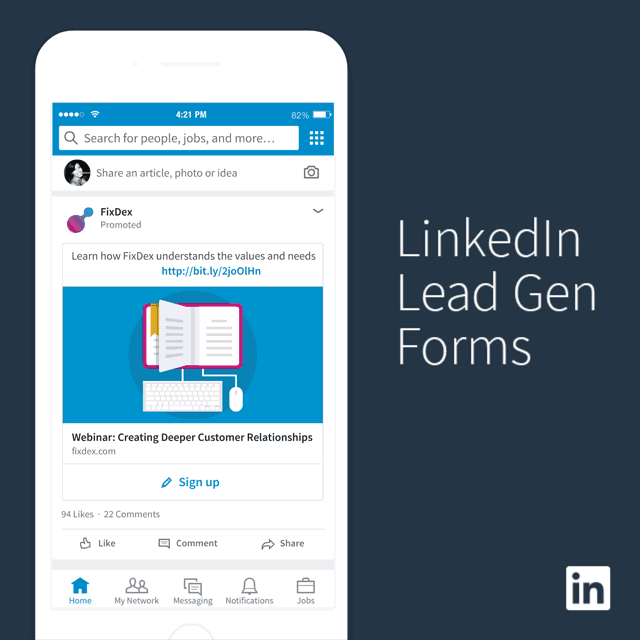 LinkedIn has announced enhancements to its Lead Gen Form ad to improve reach, responses and overall ROI. The three new options are: Bid auto-optimization, desktop delivery and accessible lead management.
Starting with bid auto-optimization, LinkedIn explains the new option as follows:
"We have expanded our bid optimization tools to include Lead Gen Forms. Next week, marketers will be able to use automatic optimization in Campaign Manager to get more leads for a better price. When you select "Lead Form Submissions" on the Bid and Budget page, Campaign Manager will auto-adjust your bid to serve your Sponsored Content with a Lead Gen Form to more members who are more likely to submit a form."
Second is Desktop Delivery, where LinkedIn will make Lead Gen Forms available on desktop to enable brands convert their audience from any device.
The third addition is Accessible Lead Management, which will allow marketers to easily manage their leads. LinkedIn explains it as follows:
"You can easily manage your leads by either downloading lead lists from Campaign Manager, or setting up a direct integration with your preferred marketing automation or CRM provider. Marketers can now send their lead data directly to two new partners: Salesforce Sales Cloud and Microsoft Dynamics 365, making lead management even easier for you and your sales teams."
LinkedIn has announced that it will be introducing additional features to the Lead Gen campaigns in the next few months, so watch this space for updates.
Read more here.