Facebook lifts political ads ban, adds controls to switch them off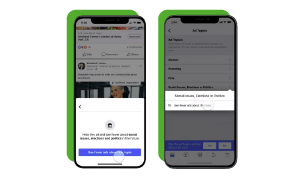 Last week, we discussed Google's temporary political ads ban, which came into effect after the US Capitol riots. The ban was lifted, and the platform can be used to distribute political messaging normally. This week it's Facebook's turn to lift the ban on political ads which was put in place during the November presidential elections.
Starting from March 4th, political ads are available again on Facebook. Having both major ad platforms resume offering their political products at roughly the same time indicates strong confidence in the democratic process and more so in the Biden administration's capacity to maintain order and assuage hateful rhetoric in the digital space.
Equally relevant is Facebook's decision to give users the option to be receptors of political messaging. The platform also recently introduced new controls that will allow users in 90 regions around the world to turn off political ads in their feeds after receiving overwhelming negative feedback about political content.
Paradoxically, if widely used, these new controls could mean more extreme rhetoric, since the ads themselves will likely not reach those are politically disengaged—which is the audience that could be more sensitive to partisan messaging.