FB Messenger adds disappearing messages, too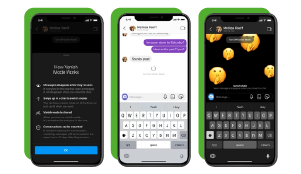 It was just last week that we discussed WhatsApp's announcement of its new disappearing feature. Now Facebook is giving a similar feature to Messenger, although with a different objective. Whereas WhatsApp's disappearing messages take 7 days to go, Messenger's version can go as soon as you want them to.
Called 'Vanish Mode', the feature will allow you to immediately summon an alternative chat interface with a swipe. Share texts and media you wouldn't want to stick around forever, and then swipe again to make them disappear!
Facebook says that they designed this mode with user safety as a core principle:
Only people you're connected to can use vanish mode with you in a chat. Vanish mode is also opt-in, so you choose whether to enter vanish mode with someone. If someone takes a screenshot of your chat while you're using vanish mode, you'll be notified. And as always, you can block someone and report a conversation if you feel unsafe.
Definitely an interesting take on disappearing messages!
Learn more here.