Google adds messaging features to Google Maps & Search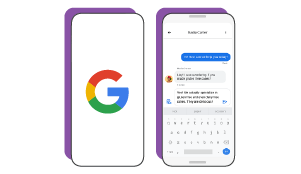 It was (almost!) a year ago that we discussed Google's addition of chat capabilities to Google Photos. The move was designed to improve the inconvenient sharing options of the app and reflected Google's focus on family features.
And now, Google is adding chat capabilities to Google Maps and Search in order for users to easily and conveniently get in touch with businesses (Phone calls? In this economy?!). It also reflects Google's revised focus on eCommerce, which makes sense, considering Google's myriad of updates targeted at improving the capabilities of small businesses.
Google explains the process:
"Once you turn messaging on from your Business Profile, you can start replying to customers on Google Maps from the business messages section in the "Updates" tab. And soon you'll also be able to see your messages right from Google Search (via the Customers menu on your Business Profile) and message customers directly from your computer."
Hit me up on Google Maps, yo!
Learn more here.