Google is adding new tools to Google Ads insights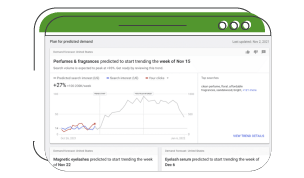 As part of its holiday season business additions, Google is adding new tools to its ad insights that will help businesses make the most of the season. The most recent features include demand forecasts, consumer interest insights, audience insights, and more.
The demand forecasts option is one that offers "forward-looking trends," where the software will be able to predict future search interests. This will help businesses prepare their future marketing strategies and plans well in advance and be able to remain relevant in relation to emerging trends.
Consumer interest insights allow businesses to see how people search for them by presenting the "top-performing query themes that drive performance in [the businesses'] campaigns." This will help retailers know which words and phrases to include in their marketing to gain increased reach.
The audience insights tool gives businesses a deeper understanding of their customers' interests and what campaign aesthetics resonate the most with them, allowing businesses to cater specifically to their audiences' specific tastes. Finally, Google is also offering change history insights and auction insights, where businesses can see how account changes and auction competition shifts impact them.
Learn more here