Instagram and TikTok introduce new text-to-speech voice options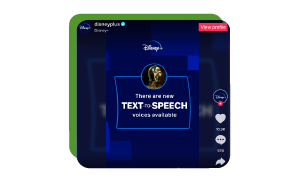 Instagram recently added a new text-to-speech option in Reels, where an auto-generated voice will read out text overlayed on the video clips. The platform provides users with two different voice options, a male and a female. Instagram also added a voice effects option, where users can change their recorded voice to make it sound different.
The text-to-speech option has been available on TikTok since last December and has been widely popular and used intensively. Instagram's addition of the same feature along with funny voice effects – another feature already on TikTok – seems like yet another attempt by the platform to catch up with popular trends.
However, only one day after Instagram's announcement, TikTok announced a partnership with Disney, where the platform will offer some Disney character voice options for its text-to-speech option. So, instead of auto-generated male and female voices, users can choose to have their text read out loud by popular Disney characters such as Chewbacca from Star Wars or Stitch from Lilo & Stitch.
It seems like the two platforms are in a race, with each trying to bring the most innovative voice options to its users. So far, it seems like TikTok is winning, as the new Disney character options are likely to catch the users' attention and increase engagement on the app.