Instagram enhances caption options for IGTV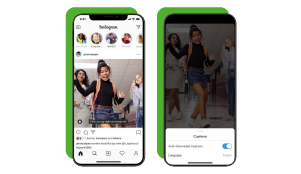 The pandemic, and the social distancing policies that came with it, has moved most of our communication online, and has created the need to greatly improve the accessibility and functionality of the online mediums where that communication takes place.
For this reason, Instagram has announced that they're rolling out automated closed captions on IGTV. The move is a smart one, since it is directed at both improving accessibility features and enhancing the IGTV's capabilities – which will likely increase adoption from content creators.
The automated captions will take advantage of Facebook's newest AI technology for speech recognition. The Automated Speech Recognition (ASR) tech will allow Facebook's systems to analyse audio content and accurately produce closed captions. With time, these systems will allow for increases in accuracy and wider language support.
Yet another reason for your brand to jump to IGTV!
Learn more here.