Instagram expands eCommerce tools for creators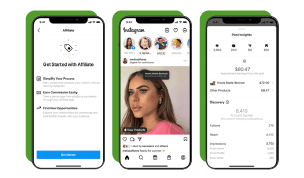 As part of the first edition of its Creator Week event, Facebook is drawing a roadmap to incorporate new tools in order to make Instagram an eCommerce powerhouse.
The first new feature is a native affiliate tool that will allow creators to tag the products they are advertising, and these tags, in turn, will drive users to the brand's in-app store to buy those products right there on the platform—creators will then directly earn a commission from those sales.
There is also an update for creators that are not affiliated with any brand but rather run their own merch store, allowing them to link their shop to not only their professional profile but also to their personal account.
So far the affiliate tool is only available for selected partnerships with US-based brands, but will be expending to the rest of the world in the upcoming months. The shop link is available to all globally.
Learn more here