Social Recap: May 2021 Trends & Platform Updates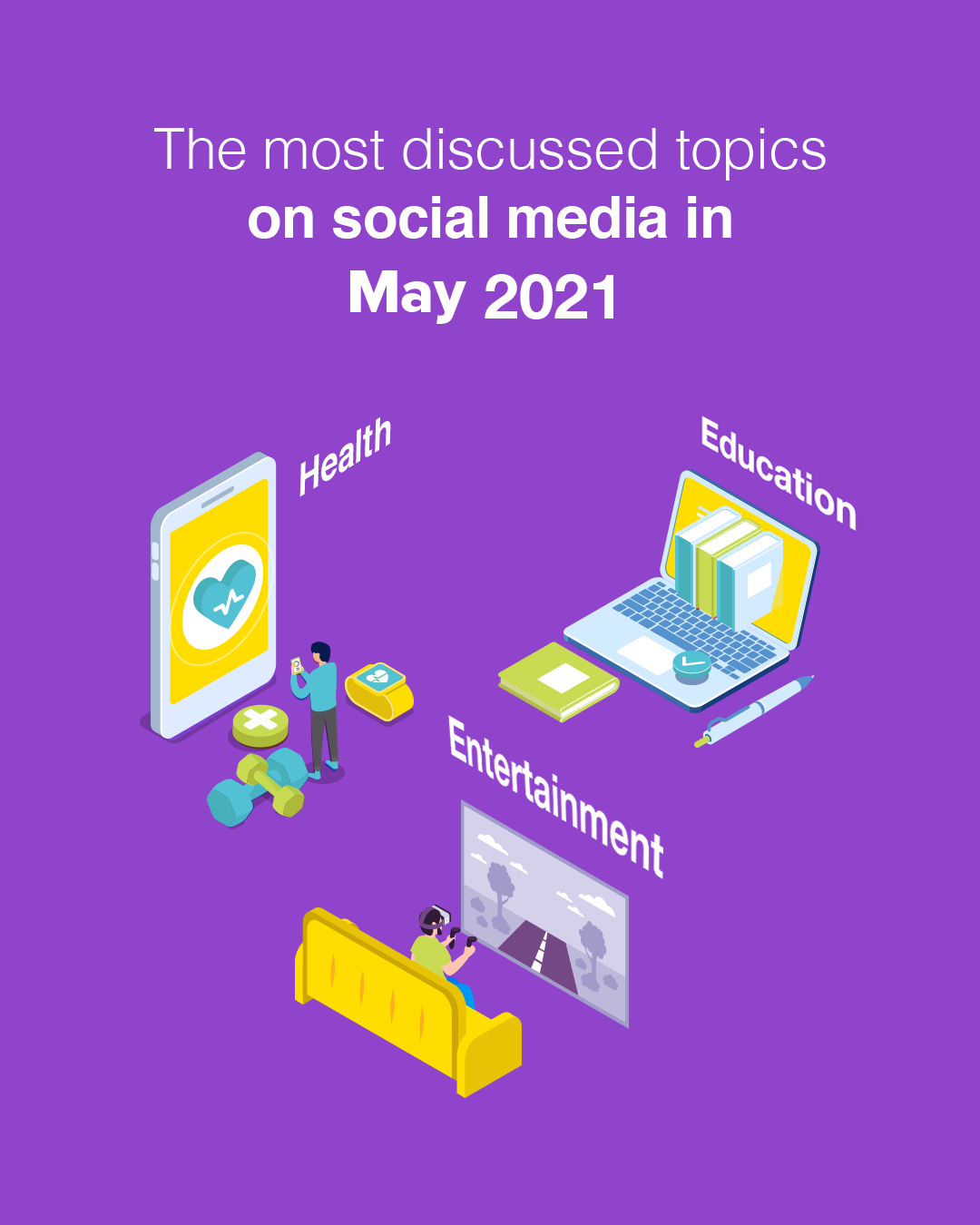 At the end of each month, we at Netizency study the popular conversations happening in social media across the Gulf to highlight the most relevant trends and analyze the discussions in the GCC's public sphere.
To do so, we've have identified a group of keywords in Arabic and English that define conversations according to most relevant industries in the region. We've classified them according to the volume of mentions and analyzed the topics of conversation across all social and online media from the GCC between May 1-31, 2021.*
What we found:
Between May 1-31, 2021, the top three most discussed topics were health, education, and entertainment in that order, followed by electronics, finance, and malls & retail.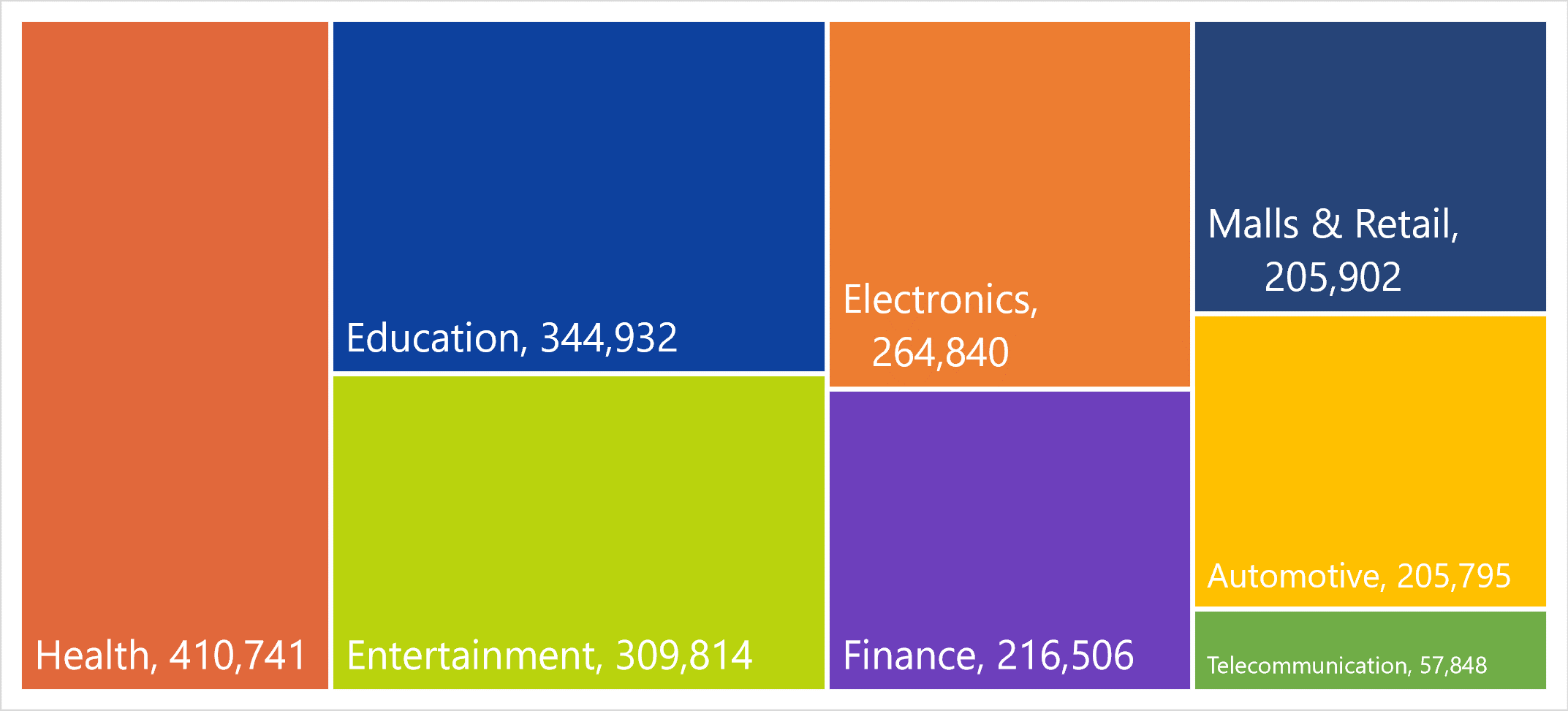 Overview
The situation in Palestine was largely the most important topic of conversation across all platforms during May 2021. Graduation ceremonies, some online-only and some in-person but socially-distanced, represent a glimpse of hope for the future, given a negative news cycle that included worsening circumstances in the Indian subcontinent—an important topic given the important size of the South Asian communities in the region.
Entertainment discussions made a comeback in May and snuck into the top drivers of conversation for the month, taking 3rd place and relegating Electronics to the 4th place, mostly due to the end of national football leagues and the beginning of a summer packed with sports tournaments. Health and Education solidify their positions as the top themes of conversation once again, something we will probably keep on seeing until the effects of the pandemic dissipate.
Top themes
Health
The tragic number of victims in Palestine was the focal point of the health conversations in May. From May 6, all social media platforms and news programs in Gulf countries continuously discussed the conditions in the streets of Palestine, with an emphasis on the hundreds of civilians affected, first in Jerusalem and then in Gaza.
The significant Palestinian diaspora, not only in all GCC countries but also around the world, as well as Gulf residents, called for a stop and relentlessly shared messages of support until the ceasefire was decided on the early morning of May 21. Mobilized through several hashtags and ad-hoc accounts, the online movements continue to be active as of the time of writing, sharing fundraisers and providing connections to help with critical resources.
The worsening sanitary conditions in India were also topics of concern for Gulf social users, as this month saw the peak of the deadliest Covid wave so far with 414,000 new cases on May 7. Fundraisers and awareness campaigns remain relevant since South Asian countries are not only struck by a more virulent variant but also by secondary infections.
In addition, discussions around mental health, a critical yet often overlooked issue, happened during the last days of the month, after Japanese tennis superstar Naomi Osaka unexpectedly withdrew from the French Open at the last minute, citing mental health issues. A headline from the Wall Street Journal reading "What Happens When Mental Health Issues Get in the Way of Work" prompted a heated international discussion involving Gulf users about work culture and what priorities should be the most important for professionals in a fast-paced economy.
Many argued in favor of the newspaper's sentiment, citing financial concerns as the key element to attain personal fulfillment. However, others went against this narrative by pointing out the centrality of mental health and how it should supersede any other material considerations, especially given the already dire economic conditions in Arab and South Asian countries.
Education
Graduation ceremonies from universities and high schools, as well as acceptance letters from Gulf students going abroad, marked the positive side of the educational discussions in May. Whether with elaborate virtual ceremonies or in-person but socially-distanced gatherings, students graduating this year (and even those that got their graduation canceled last year) finally had the chance to celebrate their achievements.
In addition, many students from the GCC community received long-awaited acceptance letters to undergraduate and graduate programs abroad, mostly from Europe and North America. Gulf users shared their excitement for such feats and cherished these moments of perceived normalcy with the hopes of attending school abroad without pandemic worries.
Despite the positive news, the pandemic is still affecting international students who are once again protesting final examination formats. Members of the Gulf community joined their international peers in denouncing the decisions made by their home countries' education authorities to allow in-person examinations, even after months of activism.
Entertainment
Are you currently trading in any major cryptocurrency? Do you know anyone who is? At this point in 2021, the answer to at least one of these questions is surely a yes. With the increasing ease of trade, more accessible trading apps, wider adoption from big companies, and, well, many memes, this year might be the year that crypto becomes mainstream.
An integral part of the recent hype around crypto is undoubtedly Twitter star Elon Musk. But Elon's role in rallying support behind Dogecoin, his 'favorite' cryptocurrency, shows just how unstable the crypto market is. When Tesla's CEO appeared on popular variety show 'Saturday Night Live,' investors decided, for some reason, to sell Doge but without enough buyers; the currency's value dropped 18%.
If recent crypto volatility, along with the GameStop stock shenanigans from January, tells us one thing, it would be that our financial system is based on very shaky grounds. And that you should invest in crypto. Or not.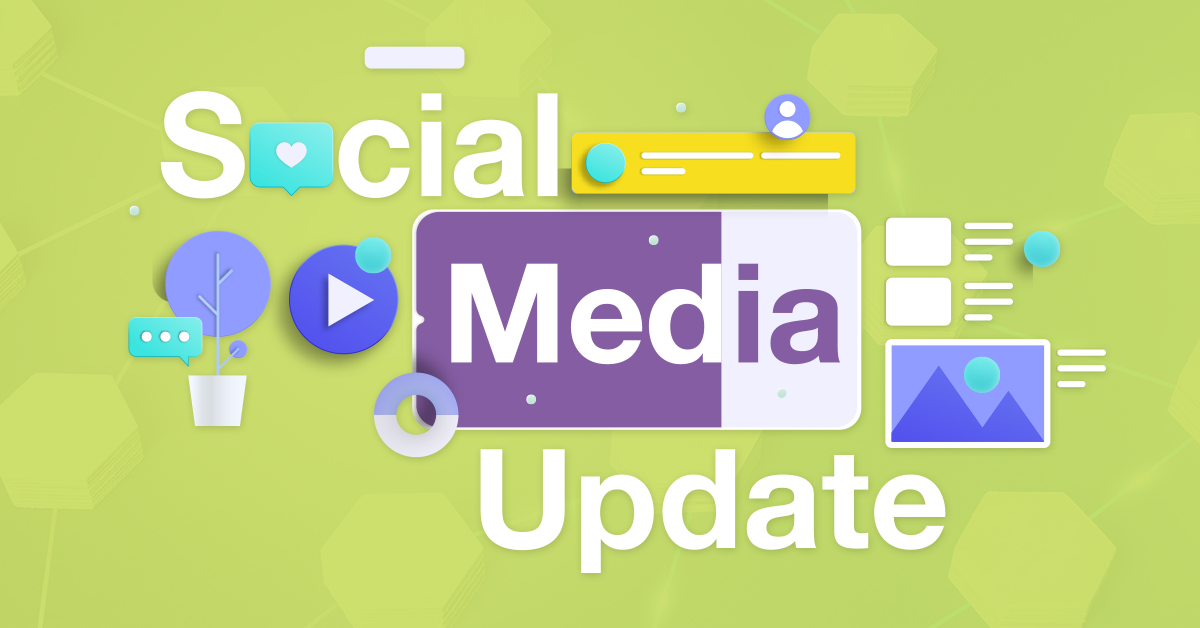 Platform Updates
Social media platforms are constantly changing and launching new features. We've compiled all the relevant updates for your business so you don't have to look for them yourself—if you'd rather learn more about new features insights on a recurrent basis, you can also subscribe to our weekly newsletter here.
The latest updates to social media platforms include:
Facebook:
Announces Spotify partnership allowing users to share their playlists and listen to featured music on an especially designed miniplayer experience
Begins testing Live Audio Rooms as part of a wider social audio strategy for the summer
Doubles down on its fight against fake news with new prompts that will alert users if they are sharing an article they haven't read
Instagram:
Adds more IG Live customization, including allowing hosts and guests to turn off their video and microphones during a broadcast
Launches the first edition of 'Instagram Insider,' a digital trends magazine focusing on fashion and beauty
Releases auto-caption sticker for Stories to enhance both accessibility and appeal
To add 'Reshare' sticker allowing users to promote their latest timeline post on Stories instead of resharing it
Launches 'Pronouns' allowing users to add up to four pronouns on their profile to better identify themselves
Tests 'Bonuses,' a program to reward the best Reels creators
Twitter:
Begins testing 'Tips,' a new feature allowing users to give financial support to their favorite creators
To launch premium monthly subscriptions with various perks, including collections and clutter-free reading
Introduces ticketed Spaces, allowing users to earn money from the audio rooms they are hosting
Adds a scheduling option for Spaces, enabling users to plan and promote their Spaces ahead of time
Snapchat:
Rolls out 'Spotlight,' a platform that allows creators to be rewarded for the most entertaining content, in MENA
TikTok:
Introduces Lead Generation ads, strengthening the advertising offerings of the video platform
Rolls out new ad resources for SMBs as part of National Small Business Month
Launches new third-party integrations allowing more apps to interact with the platform
To introduce new in-app shopping tools to take the platform's e-commerce capabilities to the next level
Adds a bulk comment selection tool, allowing users to delete or report up to 100 comments in one go
YouTube:
To add timed comments for creators to tell their audience what is coming next
Announces new Studio features, including enhanced uploading and pre-publishing check options on mobile
WhatsApp:
Expands business tools for cross-platform ads by allowing users to create "Click to WhatsApp" ads on Facebook and Instagram directly from their WhatsApp business catalog
Upgrades media visualization in threads preventing images from being cropped to fit
Google:
To add emoji reactions to Google Docs to gamify their more serious products
Adds new e-commerce tools, including an improved Shopify integration and product search tools
*This article was originally published by Communicate ME as a two-part piece. Access the trends part here and the platform updates part here.