It's official, Facebook launches a new process to convert still images & text into videos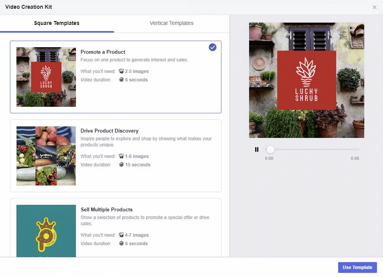 We've highlighted in a previous blog post that Facebook is exploring a new process for advertisers to convert still images and text into videos, without clearly defining the mechanism of the process. Well, we have it now!
The new process includes 3 options to help advertisers with less capacity to create video assets, which are: Video Creation Kit, Video Cropping and Simple Video Creation Tools. These options are being built into Ads Manager and Page Publishing tools.
Starting with the Video Creation Kit, users will be able to choose from a range of 4 video templates, horizontal and vertical, designed for different business goals, namely:
Promote a product (6 seconds): Focus on a key product to generate interest and sales.
Sell multiple products (6 seconds): Show a selection of products, promote a special offer and drive sales.
Show product benefits (15 seconds): Highlight product features, use case studies or explain how a product works
Drive product discovery (15 seconds): Bring your brand to life and share what makes your product unique.
The second option is the Video Cropping tool that allows users to adjust their videos format to match their desired aspect ratios.

Simple Video Creation tool, is the last option in the process, which enables advertisers to simply create templated videos from Page assets like photos & company logos, and animate them.
Read more here.