LinkedIn enhances communication tools for your company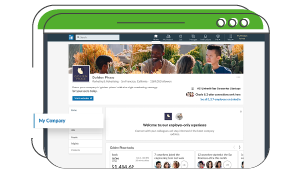 No one can deny that LinkedIn is the most important social network for corporate and business content. Most companies have their own Page and employees have their own profile—and for the most part, that is it.
LinkedIn wants to change that behaviour, however, with the introduction of a new feature to encourage engagement between a company and its staff, by creating new communication channels beyond those from formal tasks.
The new feature is called 'My Company', which is a new section within a business' Page dedicated solely to recognize staff members and foster interaction between colleagues. The tab includes:
"New features like employee milestones, so you can celebrate promotions, anniversaries, and company new hires. It also surfaces trending content from your coworkers and recommendations to connect with people you may know at your organization."
Learn more here.