Social Recap: July 2021 Trends & Platform Updates
At the end of each month, we at Netizency study the popular conversations happening in social media across the Gulf to highlight the most relevant trends and analyze the discussions in the GCC's public sphere.
To do so, we've have identified a group of keywords in Arabic and English that define conversations according to most relevant industries in the region. We've classified them according to the volume of mentions and analyzed the topics of conversation across all social and online media from the GCC between July 1-31, 2021.*
What we found:
Between July 1-31, 2021, the top three most discussed topics were health, education, and entertainment in that order, followed by electronics, finance, and malls & retail.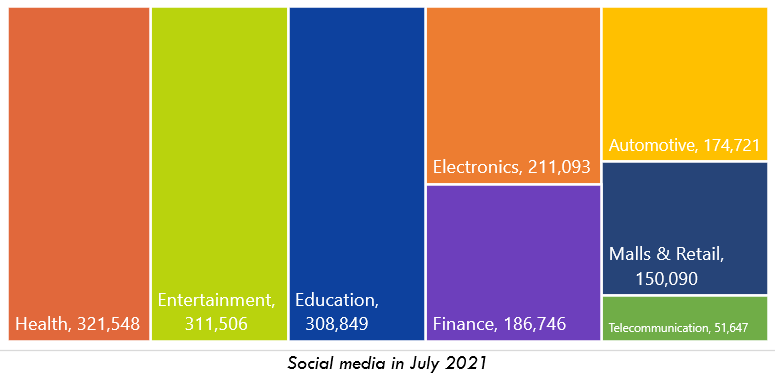 Overview
Health, Education, and Entertainment are once again the top 3 drivers of conversation for the third month in a row during July 2021, having ranked in similar fashion since May. Health and education conversations continue strong in the top spots as countries are adapting yet again to changing circumstances after the irruption of several variants of the Covid-19 virus.
Entertainment keeping its spot in the top three confirms the global sporting events' influence in the Gulf, and the world, society. The Olympic Games are finally taking place in Tokyo, Japan after being postponed from last year also but also keeping the '2020' moniker similar to the Euro Championship.
Top themes
Health
The impact of the ever-changing face of the pandemic for government and society in the Gulf are the bulk of the health conversations during July. South Asia, home of many in the GCC community, is still undergoing severe infection waves and so travel restrictions to and from countries like Pakistan and India continue aggravating plenty of internet users. But if anything is more aggravating is the sheer number of new variants spotted of the Covid virus.
A streaming service? A premium version of flight economy tickets? A new character from Marvel's Loki series? Users in Gulf could not resist making fun of yet another variant of the Covid-19 virus. Dubbed 'Delta plus', the new variant is an even more virulent version of the already virulent Delta variant and that is already alarming for the Gulf community.
But the naming is as convoluted as the virus is deadly. The GCC online community are once again reacting negatively to the prospects of a delayed recovery and normalization, since countries like Qatar, KSA, and the UAE are currently experiencing important number of cases related to these variants. In turn, the prevalence of the more contagious mutations have postponed plans for further reopening of the region's normal activities.
Nevertheless, both the prevention and the vaccination campaigns have continued to be reasons for optimism for the Gulf community as they have not only successfully delayed the arrival of the deadlier variants but also prepared significant portions of the population with strong immunization campaigns. Indeed, recent studies are showing that the vaccines used by Gulf countries are strong enough to be effective against the Alpha, Beta, Delta, Delta plus, and, believe it or not, Lambda variant.
All the way to Japan, the Olympics was the unexpected driver for health discussions last month, and not only because a large number of people involved in the Games got infected with the Covid virus. In fact, and at the time of writing, the Tokyo Organizing Committee has reported 29 athletes and 375 staff members with positive Covid infections.
Because of these contagions, the sporting consequences despite all the isolation and preventive measures have not been all positive. Most notably, affected national federations had to make difficult choices often involving withdrawals. From individual athletes such as an American pole vault champion, Dutch tennis players, and a Czech cyclist to full teams such as the Greek artistic swimming team; the virus' pervasive influence continues to loom large in the Olympic village.
Yet most health discussions were around mental health. Picking up the conversation from last May prompted by tennis superstar Naomi Osaka's pulling out from the French Open, Gulf users once again deliberated about the role of mental health in the professional sphere. This time it was American gymnast icon Simone Biles's own withdrawal from some Olympic events also citing mental health issues.
Despite plenty of users who took the opposing side of the debate, arguing that mental health shouldn't be 'real' concern for 'true' professionals, it was the current best tennis player in the world Novak Djokovic who posed the strongest claim against the relevancy of mental health concerns for those competing in the big leagues. Claiming that "pressure is a privilege" and he has no problem handling it, Djokovic's remarks resonated for many in the Gulf community.
However, and to the delight of the mental health advocates, Djokovic lost all his chances for a medal in a dramatic fashion which showed the real face of his coping mechanisms. In what has already become a meme, the Serbian tennis player slammed and broke his racket on the court floor, prompting the online community to ask if this is how pressure should be handled. On the other side of the coin, British gold medal diver Tom Daley became an icon after showing a somewhat unorthodox stress relief activity: cardigan knitting.
Education
Final exams and a constant debate around school policies were the focus of the educational conversations last month. It is another year, another beginning of classes, and possibly another season of hybrid classes at best, or online-only at worst. Neither students nor teachers are looking forward to start again with restrictions, but given the Covid variants present in Gulf countries, the online community agree it might be the most sensible decision to take.
July, however, did not go without more complaints around testing. This time the dissatisfaction came from Egypt, home of a significant portion of the Gulf's expatriate community. Pharmacy students campaigned relentlessly to be allowed to go without in-person examinations.
Entertainment
The sporting events of month were not only the best antidote for the summer heat of the Arabian Gulf but also the center of the entertainment conversations in July. The heart-stopping finals of the Euro 2020 and Copa America monopolized the digital space during the beginning of the month while the Olympic Games took over and are set to continue until the first week of August. As seen last month, the Gulf online community gave most of their support to both England's national team in their European competition and to Argentina's national team in their South American tournament, experiencing diametrically opposite results.
On the one hand, in Europe, football did not come home but rather went to Rome instead as Italy bested England in a riveting penalty shootout to shatter the illusions of millions of Premier League fans around the world. GCC users lamented the English manager's poor decision-making in choosing the order and the shooters for the penalties, further exacerbated by the inexcusable racist abuse the young English footballers who missed their shots received online.
Compounded by the deplorable scenes of Wembley Stadium during and after the final match, when English fans caused riots and left many injured, the GCC online community scorned all acts of racism and vandalism surrounding the tournament and mostly related to hateful and violent acts from England-based users. Many from the Middle East sneered at the examples of 'civilization' shown by the British and made fun and the reversed roles.
On the other hand, the Gulf community celebrated Argentina's relatively uneventful win against Brazil mostly because it meant living legend Lionel Messi finally achieving the long-evasive glory with his national team. Having reached the finals on a World Cup and several Copa America tournaments, Argentina's success marks a milestone that gives credence to the large sector of football enthusiasts who consider Messi the best player in history but couldn't match Cristiano Ronaldo's national successes.
Spotlight: Space travel
A small step for a man, one giant leap for… billionaires? July marked the month when two high-profile businessmen undertook two different trips to the outer layers of the Earth's atmosphere. The first one was Virgin's CEO Richard Branson, who, aboard his own Virgin Galactic rocket plane reached the edge of space. Yeah, it wasn't quite 'space', and naturally Gulf users joined the discussion about his flight's merit.
But most of the space travel conversation was centered around polemic former Amazon CEO Jeff Bezos. Before stepping foot into Blue Origin's New Shepard rocket, the billionaire infamously thanked all Amazon costumers for indirectly funding his space adventures, fueling a heated discussion about the role of the rich in hoarding wealth at times of economic and social turmoil.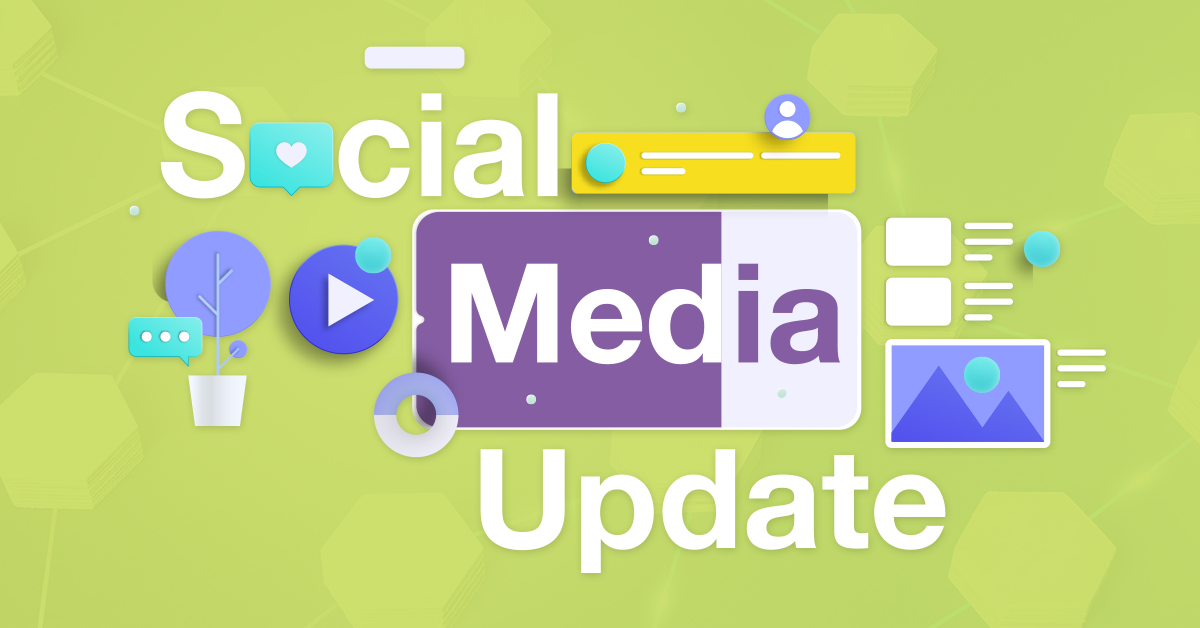 Platform Updates
Social media platforms are constantly changing and launching new features. We've compiled all the relevant updates for your business so you don't have to look for them yourself—if you'd rather learn more about new features insights on a recurrent basis, you can also subscribe to our weekly newsletter here.
The latest updates to social media platforms include:
Facebook:
To introduce ad text optimization using the latest AI technology to highlight the most relevant text according to individual user preference
Rolls out new timeline animated reactions, including confetti and emojis
To display IG Reels on the main FB app in order to get higher exposure
Tests newsletter platform 'Bulletin' as of part larger suite for independent writers & content creators
To add 'Threads' feature to Pages of public figures, which will be able to link different posts together in a thread
Introduces 'Soundmojis' to Messenger
Instagram:
To show you 'suggested posts' on your timeline from accounts you don't follow
To experiment with video feeds, including an option that could show users recommended full-screen videos in their homepage
To roll out 'Limits' new anti-harassment tool, allowing users to restrict unwanted comments and messages
Makes Stories drafts available to all
Adds auto captions for timeline posts
Launches caption translation to stories, allowing users to get instant translations
Introduces 'Collab' co-authoring tool, allowing two or more creators to be credited in Feed and Reels posts
Twitter:
Rolls out feature to share tweets to IG Stories
Adds 15-second video views to its ad options as part of a revamp for its premium offerings
Begins tests for ticketed spaces & super follows, bringing the first of the new paid features to life
To introduce their own 'Close Friends', allowing users to communicate with a selected group of followers
Gets rid of Fleets, citing a new focus on audio-only features
Tests Professional Profiles, giving users the option to assign themselves as either a 'Business' or 'Creator' profile
To introduce voice effects to Spaces including voice pitch modifier and echo
TikTok:
Introduces 'Jumps', third-party integrations allowing creators to link mini-programs and services to your videos
Officially extends max video length, allowing users to create videos of up to three minutes
Launches 'Resumes', an innovative format to showcase applicants' creativity
Revamps livestream features, adding new event cards and a redesigned Q&A
YouTube:
Updates unlisted videos policies, automatically making them private after a security update
Releases 'New to You' discovery feature, showing users content that they have literally never seen before
Introduces achievement cards for creators, awarding them recognition after reaching meaningful milestones
Expands Shorts beta to the Middle East, allowing UAE users to create catchy clips on YouTube's direct replica of TikTok
Snapchat:
Announces deal with Universal Music Group to make their music catalogue available to be used in snaps
Google:
Begins testing live shopping tool, allowing users to shop featured products within videos from selected creators
WhatsApp:
To improve media sharing quality, allowing users to opt for higher quality media transfers
Tests multi-device connections, allowing users to use the app on multiple devices even if their phone battery is dead.
*This article was originally published by Communicate ME as a two-part piece. Access the trends part here and the platform updates part here.