SOCIAL RECAP: JULY 2022 TRENDS & PLATFORM UPDATES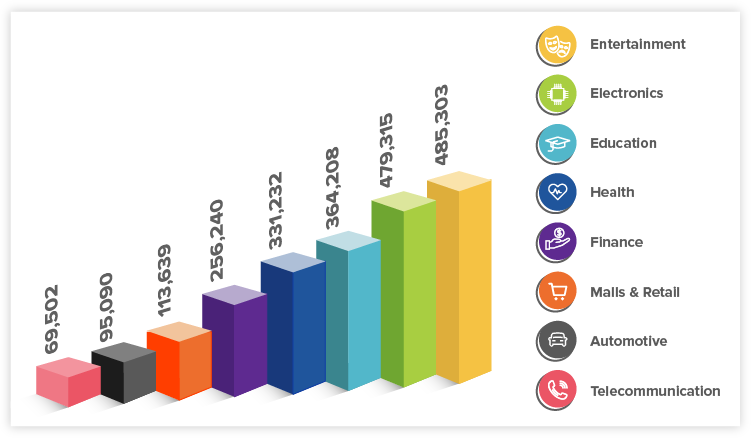 Every month, Netizency identifies a group of Arabic and English keywords from different industries in the region, classifies them according to the volume of mentions, and analyzes the topics of conversation across all social and online media.
Between 1st to 31st July, the top three most discussed topics were entertainment, electronics, and education, followed by health, finance, malls & retail, automotive, and telecommunication.
Similar to last month, entertainment, electronics, and education remain the top discussed categories in the GCC during July 2022, followed by health, finance, malls & retail, automotive, and telecommunication.
Overview
Summer is here, so it's time to lay back and chill. While you were busy catching sun rays at the beach, finding the perfect pool floaty, or booking some concert tickets, some social media conversations were gaining momentum in the GCC during July, and you really need to know about them. We rounded up some of the top ones across the entertainment, electronics, and education industries for you below. Let's jump right in, shall we?
Top Themes
Entertainment
Some of the biggest entertainment-themed conversations happening on social media platforms have been stirred by the advent of Eid al-Adha. Users in the GCC have expressed the different ways in which they are celebrating, some by reciting prayers and highlighting their spiritual devotions, and others by sharing their plans to enjoy the long weekend. Some brands have also tapped into the collective excitement with plenty of greeting posts, while others were activating campaigns to hook in consumers with special offers and promotions.
Eid has also brought out many talks around the latest hits, with users flocking to the cinemas during their breaks and posting about plots, casts, songs, and celebrities' chemistry. Most notable is the spike we've seen around Mohamed Emam's '3amohom' movie and Tamer Hosni's 'Bahebek' owning a fair share of users' reviews. You think that it's the end of our movie discussion for this month? Well, we are not even close! A global trend that caught on in the GCC is #GentleMinions. It started as a meme and quickly turned into a real trend, where teenagers showed up to screenings of 'Minions: The Rise of Gru' dressed in suits and carrying bananas. The trend went viral, with several TikTok videos racking up millions of views. It was also applauded by Universal Pictures, the film's distribution company, in a tweet that read "To everyone showing up to @Minions in suits: we see you and we love you". However, since it turned out to be a quite harmful, messy, and loud trend, some movie theaters banned the entry of guests in costumes.@not._.bradley
July also witnessed several events that peaked GCC users' interests. Among those is the Miss Lebanon 2022 beauty pageant, which made waves on social media after being on hold for three years, sparking two contrasting sentiments from users. One took the positive route with users sharing content about Yasmina Zaytoun, the title winner, and labeling her as the face of hope for the country. However, the other caused online debates around the persistence of having a physical appearance as a vital factor to determine who wins the title in an era with women fighting hard to be seen on the inside. While the world continues to debate the pros and cons of beauty pageants' culture, whether for its aspirational gloss or for its nostalgic value, one thing is for sure is that it grabs people's attention, and that certainly stood out for us while diving through the relevant conversation.
Additionally, The FIFA World Cup 2022 is months away. Football enthusiasts are growing excited and so are online conversations. We've seen several brands starting to use the highly anticipated event to create tailored offers. For example, Qatar Airways has prepared new all-inclusive FIFA World Cup Qatar 2022 travel packages, which has acquired a substantial number of online mentions this month. Additionally, there was a lot of chatter coming from Qatari influencers promoting some entertainment destinations in the country that are going to hold huge festivities during the matches. So, the biggest football event in the world, and the first in the Middle East, is approaching, and we cannot wait for all the social media fuss it will create! Which team are you rooting for?
Of course, we couldn't let this edition pass by without mentioning the K-pop sensation, BTS. They are and have always been prominent on social media. With their popularity growing across the region and beyond, there were endless posts from passionate fans admiring the band throughout the month. However, we've seen high buzz, particularly around the news of Disney bringing a BTS documentary series and concert to its streaming services. Yes, that's right – don't expect the hype to die down anytime soon! However, moving to the less fortunate news, GCC users were shocked by a tragic incident that occurred during a concert by the popular Hong Kong boy band, Mirror. A giant overhead video screen crashed onto the stage and hit two dancers, causing them injuries. Videos of the intense moment have gone viral and were received with empathetic responses from the GCC online community. It was devastating, we wish both dancers a speedy recovery.
To end this category, we must highlight the outstanding conversations we've picked up from some Gulf gaming enthusiasts and cat lovers around the new 'Stray' game. Reaching around 62.9K concurrent players just three hours following its release, the new adventure video game lets you play as an orange tabby cat where you must untangle an ancient mystery to escape a long-forgotten cybercity and find the way home. Gamers in the GCC have rushed to share their various reviews, progress updates, tricks, and recommendations on social media. It seems like everyone wants to be a cat!
Now onto our next category, Electronics!
Electronics
Other than the enormous amount of mentions we've captured from electronic-based Eid giveaways, with the upcoming launches of some of the world's most hyped devices, social media conversations around electronics were particularly exciting this month.
The first giant tech brand that took the spotlight during the month is HUAWEI. Tech fanatics in the GCC were talking about the brand's Flagship Products Summer Launch Event, with many released devices, including HUAWEI Mate Xs2, HUAWEI MateBook X Pro, HUAWEI MatePad Pro, and more. They spoke excitedly about their innovative features, design, colors, specs, processors, and compatibility. The brand was also actively prompting the conversation, running several campaigns on its MENA social media pages, and collaborating with regional tech and lifestyle influencers.
Also, Samsung booked quite a fair share of this month's online conversations with its Galaxy Unpacked event penciled in for August 10, 2022. The tech giant is rumored to reveal the Galaxy Z Fold 4, Galaxy Z Flip 4, and Galaxy Watch 5 during the event. However, it seems that some tech geeks in the GCC are hopeful that the brand might have more surprises in store for us. Will it? We will have to wait until next month's edition to find out!
The new MacBook Air M2 was another topic that retained a strong online presence in the GCC during July. Its thinner and lighter design has caught several unboxing videos and reviews, particularly about the device being entirely different from its predecessors adopting a uniform, flat body similar to the MacBook Pro. Some argued that it could be the best laptop, while others expressed strong opinions against Apple's device prices. Retailers have also embraced the hype by posting about the product's availability in their stores encouraging users to purchase it.
Beyond the overwhelmingly positive buzz and excitement around the latest devices' announcements, we've also seen another not-so-good news trending all over the electronics and technology conversation this month – and this time it was about Russia going after Google. The country hit the search giant with a $390 million fine for failing to restrict access to prohibited material about the war in Ukraine. It strongly made its way into conversations with regional news outlets and users repetitively sharing the news. Hateful speech and fake news continue to plague the online world, and we are yet to see if there will come a time that these companies find proper, balanced ways to counter misinformation.
On that note, let's move on to the last category for this month, Education.
Education
The academic year has ended, and July was the month when students began celebrating their newfound freedom from the final exams and their stress. Other than their long-awaited holiday fun, there were lots of celebratory messages from users sharing their test results. Typically, students tend to send many heartfelt thankful messages to teachers for their guidance and support, but this month, we've seen quite an opposite story going viral. A screenshot of a WhatsApp message from a student slamming her teacher for telling her that she would not be able to pass her board exams was trending. The student clarified to the teacher in her message that she has in fact passed and asked her to be kinder with her students in the future, especially those who seek her help. There were plenty of responses to the tweet coming from users in the GCC, which opened doors for many others to share their similar experiences.
Two years ago, me and my friend decided to text our teacher the day our results come out 😀 pic.twitter.com/iDUd6XyhZG— famouspringroll (@hasmathaysha3) July 22, 2022
Speaking of passing graduates, we've also captured an interesting amount of mentions during the month from educational bodies that were conducting workshops dedicated to high school fresh graduates aiming to help them navigate their path to college and answer some of the common questions about choosing a major. Similarly, universities were actively posting about opening their admissions for the upcoming academic year. Many users responded by inquiring about the required application documents, online process, majors, and more. Starting the university journey is a bittersweet feeling and it only gets sweeter once that acceptance comes through, so, good luck, champs!
New policies by government entities tend to cause a spike in the online conversation, which was apparent when Abu Dhabi announced raising the pensions of Emirati public school teachers to 80% of their total salary. The typical responses to the news among GCC users always had the word "wow", "amazing", and "inspiring", and we weren't really shocked to stumble upon those reactions.
Rounding up the good news, international achievements and awards have repetitively been a key source of increasing chatters across educational conversations, and for the right reasons! On that note, we've seen two unique awards from brilliant students heating up. The first one was the announcement of Saudi students winning four prizes at the 54th International Chemistry Olympiad. Users in the GCC were happily sharing the news and their pride. The second was also worth all the hype, with two UAE students being on the top 50 shortlist for $100,000 Chegg.org Global Student Prize 2022, which aims to recognize extraordinary achievements of young change-makers from around the world. Videos featuring the winners were picked up from different news outlets and shared across their social media platforms, receiving lots of support from the audience.
Social media platforms move as fast as their users.  We've compiled all the relevant updates for your business, so you don't have to look for them yourself. 
The latest updates to social media platforms include:
Facebook
Removes 'Premieres' to consolidate the platform's video offerings.
Adds assigning a 'Community Manager' option to moderate comments during a Live stream.
Tests a new avatar cover image feature.
Allows users to create alternative profiles.
Launches a new 'Feeds' tab and revamps its 'Home' tab into a TikTok-esque experience.
Adds 'Creator Collaborations' allowing multiple creators to be listed on one post.
Our thoughts: Facebook continues to bend over backward to be the cool platform again and increase active usage and break TikTok's current dominance by imitating some of its services. Will Facebook succeed? We are yet to see!
TikTok
Adds new closed caption and translation tools.
Partners with NCSolutions to provide advertisers with a new sales lift measurement for their ad campaigns.
Tests a 'Shop' tab that allows users to explore and shop products from several categories.
Adds 'Follow Me' educational program to help businesses improve their TikTok marketing approach.
Introduces 'Inventory Filter' giving brands more control over their ad placements.
Our thoughts: TikTok is catching up on some of the features that have been well-established across other social media platforms, such as Inventory Filter or closed captions tools. However, we are particularly excited about the new 'Shop' tab and betting that it will evolve to place TikTok as a solid e-commerce platform capitalizing on the #TiktokMadeMeBuyIt fad.
Instagram
Adds a boosting option to Reels.
Turns all video uploads into Reels.
Opens Reels API access allowing brands to track, schedule, analyze, and moderate Reels via third-party platforms.
Tests a 'Live Producer' tool enabling users to go live via desktop using streaming software.
Experiments with more subscription-based features, such as Subscriber Chats, Subscriber Reels, Subscriber Posts, and Subscriber Home.
Tests 'Notes' allowing users to post 60-character updates.
Considers showing ads on users' profiles.
Our thoughts: This hasn't been a great month for Instagram where it faced immense backlash after testing several new features that made the app experience resemble its toughest competitor, TikTok. A photo that calls to "Make Instagram Instagram again" has gone viral forcing the platform to pause for a bit, take a step back, and reconsider its approach. We, too, miss the old days when Instagram was just about beautiful images! Besides that, as you can now promote Reels, it's worth keeping an eye out for a drop in your Reels' organic impressions over the coming months to see whether Instagram will use that strategy to push businesses to spend more on Reels or not.
Twitter
Lets users 'Unmention' themselves from unwanted conversations.
Tests 'Co-Tweets' allowing users to collaborate on a single tweet.
Our thoughts: There is not much from Twitter this month, but it is interesting to see how it is putting users in control of their own experiences and conversations on the platform. Big thumbs up!
LinkedIn
Introduces a native Carousel posting option.
Unveils it's Business Manager' platform allowing users to easily manage and moderate multiple accounts from a single dashboard.
Our thoughts: Slowly but surely! The more options and streamlined the managing process is, the better – LinkedIn is catching up.
YouTube
Stops letting channels hide subscriber counts to reduce spam accounts and impersonators.
Adds text markup options enabling creators to add bold, italic, and strikethrough text in video descriptions.
Expands test of product tagging with select creators.
Tests expiring Community posts.
Updates Shorts analytics display so that it's visually consistent with the other Channel analytics tools.
Our thoughts: While Shorts are the "biggest" thing for YouTube at the moment, we like how these updates are focusing on enhancing different elements of the platform's experience for both viewers and creators. We are particularly excited about the expiring Community post feature and the different uses that it opens doors for. These include exclusive product drops, discount coupons or special offers. It could really give users a sense of urgency to check and act on them right away, which will ultimately drive more conversions.
Snapchat
Introduces Snapchat+ to all users.
Launches Snapchat for Web for Snapchat+ subscribers.
Allows users to turn their NFTs into Snapchat AR filters and background items.
Our thoughts: Snapchat takes an edge over other platforms by working on creative new features that keep it true to its core services and users' unique usage trends.
Google
Makes 'Ads Creative Studio' available to all.
Our thoughts: Google is all about simplifying things, and this certainly seems like a convenient tool with features that are designed to help advertisers easily create multiple variations of an ad and explore different formats for their campaigns.
*This article was originally published by Communicate ME as a two-part piece. Access the trends part here and the platform updates part here.