SOCIAL RECAP: NOVEMBER 2022 TRENDS & PLATFORM UPDATES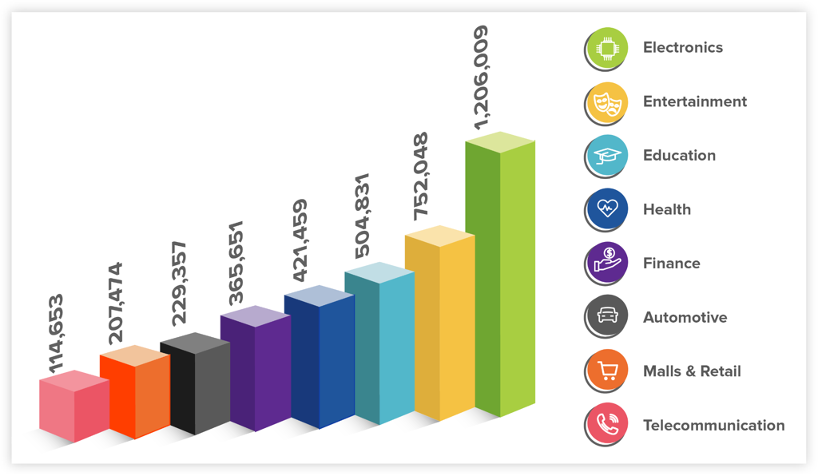 Every month, Netizency identifies a group of Arabic and English keywords from different industries in the region, classifies them according to the volume of mentions, and analyzes the topics of conversation across all social and online media.
It's almost time to ring in the new year as we say goodbye to 2022. But before we do that, let's look back at some of the key online conversation highlights from the top three categories that sparked a lot of chatter during November.
Between the 1st to 30th of November 2022, the same front-runners from the previous month, Electronics and Entertainment, dominated the GCC online conversations, followed by Education. Health, Finance, Automotive, Malls, Retail, and Telecommunication came next in that same order
Top Themes
Electronics
The top words in the Electronics conversations during November indicate that reviews, leaks, giveaways, and seasonal offers talks were buzzing. They included gadgeteers posting informative reviews around Google Pixel 7 Pro and Xiaomi 12T Pro, comparing them to other devices, and hyping up the upcoming Xiaomi 13 Pro Launch Event. The latter is igniting users' interest as it comes with IP68, making it the brand's first waterproof model, a flat-screen, and the world's thinnest bezel. While iPhone 14 also got its fair share of attention, it was mostly in the form of giveaways from brands who offered the phone as a prize following Saudi Arabia's victory over Argentina in the World Cup. On seasonal offers, the Black November online deals came fast and thick, where we've captured a stream of retailers hurling electronics promotional campaigns throughout the month.
Perhaps the most popular thread in this month's Electronics board was sparked by an enterprising Chinese YouTuber who beat Apple to the punch and built the world's first foldable iPhone using Motorola Razr 2020 hinges. The engineer's YouTube video documenting his 300-day-long process of dismantling dozens of iPhone Xs and finding different parts from other phones to build the first foldable iPhone has captured an upswing of interest from tech fanatics. However, some viewers had a rather negative opinion about the full thing, dismissing foldable phones, and others said that the creation was a waste of time and money.
Elon Musk's Twitter "fiasco" was another trending story that reached a fever pitch during November to the point where some major brands halted their advertising campaigns on Twitter over content moderation concerns. Musk has sacked about 50% of the company's staff, reinstated banned accounts, teased making an "alternative phone" in the event that Twitter is booted from Apple's App Store and Google Play, and the most bizarre one among them all; he decided to charge $8 a month for the blue verification badge, which caused a deluge of imposter accounts to mimic real brands where they ended up losing billions of dollars in their market cap.
The Musk-Twitter drama reached epic proportions during the month that users took the chance to meme the end of the microblogging platform through #RIPTwitter. But not everyone feared that Twitter would turn into another MySpace, where some users in the GCC shared their optimism for the platform in Musk's hands, praising several new features that he has announced, including the removal of tweet labels that identified the type of device used (we kinda like it too!).
Now, we shall depart from this category and proceed to the Entertainment section to see what all the rah-rah is about.
Entertainment
The FIFA World Cup 2022 dominated the headlines of all things Entertainment during the month, and gulf users were all there for it! The conversations were wide and varied, including the opening ceremony with BTS sensation Jungkook and Qatari singer Fahad Al Kubaisi performing their hit track, Dreamers, to Hollywood legend Morgan Freeman and Ghanim Al Muftah's inspirational dialogue. Covering games, yummy recipes to enjoy while watching, memes, and more trends were shaping the conversations. Users' tweets were glowing, as they praised Qatar for hosting the World Cup. They were proud and happy with how organized things were and refuted many of the criticisms from the western media.
While we were getting ready for the big game, there was a frenzy of social media buzz about two festivals that happened in November: the Red Sea International Film Festival and the Distinctive International Arab Festivals Awards (DIAFA). Mainstream media and sponsors were actively posting about the nominated artists, awards titles, guest lists, featured films, celebrities' special interviews, and styles for the occasion – all of which ignited positive responses from the community.
For our next story, the name of the event itself hints at how large the momentum was around what's dubbed Riyadh's "loudest weekend," the MDLBEAST Soundstorm 2022. With more than 200 acts lined up to perform on stage in December 2022 including massive names like DJ Khaled, David Guetta, Bruno Mars, and more, the music festival was the talk of the town during the month. We've seen plenty of conversations coming from sponsors sharing teasers and countdown posts with links to encourage users to book their tickets before they run out. Influencers from across the GCC were posting vlogs highlighting their preparations for the trip to be part of the fun. Users were also part of the dialogue tagging their friends on relevant posts to plan to go to the concerts together
You've reached the end of this section, but keep reading for some tidbits about the Education conversations in the GCC.
Education
Sham Al-Bakour is a name that was trending across social media for several days during November, all for the right reason! If the name does not ring a bell for you yet, go and Google her, right now. We promise you a pleasant surprise! The 7-year-old Syrian girl was crowned the Arab Reading Champion by His Highness Mohammed Bin Rashid at the final ceremony of the sixth Arab Reading Challenge in Dubai. The youngest contestant in the challenge received widespread media attention, with videos of her shining with confidence and grace while speaking flawless standard Arabic having made the rounds on social media. We've also seen the viral spread of news about the event, which included as many as 22 million students from 92,000 schools. The conversation was filled with positive sentiments about the future of the Arabic language in safe hands with these initiatives taking place.
Additionally, the bookworms in the UAE were actively posting about the Sharjah Book Fair, an 11-day international book fair held annually in Sharjah, UAE. User-generated content at the book fair included book reviews, guests of honor, and other details. Users were also sharing videos of the Bollywood star, Shah Rukh Khan's speech at the event highlighting how the arts, in all forms, bring cultures together. The book fair reportedly attracted 2.17 million visitors from 112 countries, and that appeal and excitement were mirrored in the online conversations we've seen around the event.
Additionally, we've captured a lot of retweets of videos from the Ministry of Foreign Affairs of the Kingdom of Saudi Arabia showing the Crown Prince and Prime Minister Mohammed bin Salman receiving an honorary doctorate degree from Thailand's Kasetsart University in land knowledge for sustainable development. Users were congratulating him, sharing words like "Inspiring", "Proud moment", and "long live the king".
Believe it or not (because we don't), 2022 is almost up. And what a year it's been for social media! We've seen a lot of changes with new features being rolled out and tested, while others were discontinued. Some things, however, stood out to us as major trends that will most likely continue to gain traction next year. As you're plotting your social strategies for 2023, you might want to note them down.
First and foremost, vertical videos got all the hype in 2022. These portrait-style videos have been literally everywhere that every social media platform, and other brands like Amazon and Netflix, have adopted them. And they are here to stay. As such, make sure your videos are vertical-friendly by 2023, or you'll be squashed on the newsfeed!
Additionally, TikTok has consistently stood out as the platform where trends first emerge, and then end up popping up and being replicated on Instagram Reels and YouTube Shorts. So if your brand isn't already on TikTok and capitalizing on trends, it's time to get on board, or else you're missing out on relevant and timely opportunities to reach a larger audience and boost your brand's visibility!
In terms of content, seeing the rise of BeReal with TikTok and Instagram copycatting its main feature, it is clear that real and unfiltered content will pick up traction in 2023. Content that is too perfect will be perceived as fake, filtered, and often time manipulative. So, here's what you can do! Find an opportunity to showcase your brand in a human manner, with lots of behind-the-scenes posts, daily vlogs snippets, and transparent messaging.
It's really anyone's guesses what the social media scene will look like in 2023. Twitter could go broke, Facebook could rise from the dead and become the "it" platform for the younger generation, or we could start paying for a verified checkmark on Instagram and YouTube. So anything could happen really. But if you want to stay in the loop of all the new social media news, then we've got you covered. For now, here's a roundup of the most important social media headlines during November.
Twitter
Expands its ad optimization features.
Adds a checkmark color scheme.
Tests charging content on Twitter.
Might get Vine back.
YouTube
Adds a quiz feature to Community posts.
Adds e-commerce tools to Shorts.
Allows users to watch Shorts on TV.
Adds a new 'Target frequency' feature to video campaigns.
Adds 'Smart Replies' comment translations and suggestions.
Instagram
Adds music to static posts.
Allows users to schedule their posts.
TikTok
Adds verification requests that are similar to Twitter.
Adds 'Audience Insights' for more demographic details.
Tests 'TikTok Music'.
Meta
Updates its privacy settings to protect underage users.
Adds new Creators Week 2022 features.
WhatsApp
Expands its Yellow Pages-like experience.
Adds 'Communities'.
Facebook
Launches its Professional Mode to all creators globally.
LinkedIn
Allows users to schedule their posts.
Snapchat
Adds Shopping Lenses that will allow Snapchatters to play dress-up with Amazon Fashion's eyewear models.
Google
Adds RSVP with Google Registry.
*This article was originally published by Communicate ME as a two-part piece. Access the trends part here and the platform updates part here.