TikTok launches a Small Business Resource Center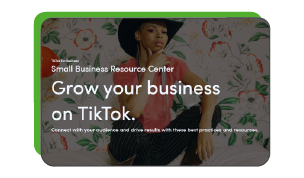 With TikTok being the platform of the hour, brands are turning to it in order to explore its ads potential and drive more awareness to their products and services.
On that note, TikTok has announced a new Small Business Resource center targeting SMBs, specifically to help them unlock opportunities to promote their business via the fast-growing app.
The new resource center includes a range of helpful case studies, creative tools, free webinars and much more to help SMBs connect with their audience and drive results.
Announcing the new resource center, TikTok had this to say:
"Our Small Business Resource Center is officially live! From success stories to creative tools and free webinars, it has everything you need to grow your small business on our platform. You've got some exploring to do."
You can check the new resource center here.