TikTok strengthens safety rules for minors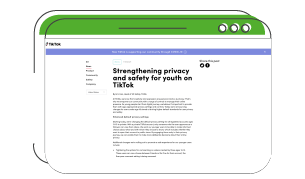 After the introduction of 'Family Pairing' parental control system last year, the first step towards stricter measures to protect younger users, TikTok is continuing with its commitment to keep the platform safe for users of all ages.
Last week, the popular video platform announced the introduction of enhanced privacy settings for users aged 13-15, making their profiles private by default. In addition, the update also includes other changes aimed at minimizing potentially harmful interactions with strangers.
Additional measures include:
Tightening the options for commenting on videos created by those aged 13-15.
Changing Duet and Stitch settings to now make these features available on content created by users age 16 and over only.
Allowing downloads of videos that have been created by users 16 and over only.
Setting "Suggest your account to others" to Off by default for users ages 13-15.
We think these are great additions to keep minors safe in the platform.
Learn more here