Twitter acquires social podcasting app Breaker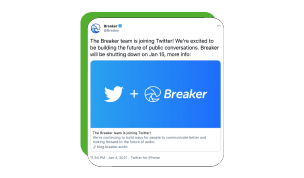 After its new audio-focused feature 'Spaces' was spotted in development last November and with the beta out last December, Twitter is already moving fast to continue expanding its audio features, this time with an acquisition.
Last week, Twitter announced the acquisition of social podcasting app Breaker, which is a strong sign to its commitment to the alternative engagement format. Sadly for fans and users of the podcast app, the service is scheduled to shut down on Jan 15 and all its team will become part of Twitter as direct developers for Spaces.
We are definitely excited to see how Twitter can improve and expand Spaces and other audio features!
Learn more here