TikTok releases first AR effect using Apple's LiDAR sensor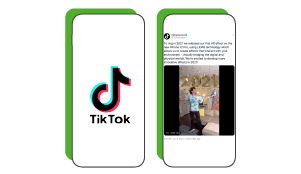 Released as one of the main selling points of the iPhone 12 Pro line last year, Apple's LiDAR sensor is touted as the most powerful depth-sensing tool to complement the already advanced technology of its camera array. It measures the distance of users from objects in their surroundings, allowing for a highly advanced AR experience on mobile.
So what better way to use it than with TikTok?
TikTok announced just last week the arrival of the first AR effect that takes full advantage of the Apple's LiDAR sensor—effects that interact with the environment. Here's an example of how it looks like:
Snapchat did its own LiDAR AR effects back in October, which made sense since they were the pioneers and current mass developers of AR filters. However, and given the potential of Apple's sensor, TikTok is quickly catching up.
Will TikTok dethrone Snapchat from its AR title? Stay tuned to find out!
Learn more here.