Twitter begins testing 'Tips'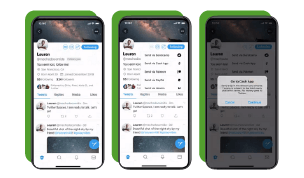 A couple of weeks ago we discussed Twitter's latest plan to incorporate premium features into the platform's core experience. Now, the first one is here: tipping.
With a new button on user profiles, creators can now receive financial compensation for their content. Or for anything you want, really. According to Twitter, this tool will serve as a way to simply give and receive money on the platform, opening up myriad of possibilities, from paying an artist for commissioned work to helping out a user in need.
The tool is currently under testing, and we do not have much more details than that. What we know, though, is that we excited to see the new direction Twitter is taking and how it will look like with the new premium features!
Learn more here