Twitter to bring Spaces to desktop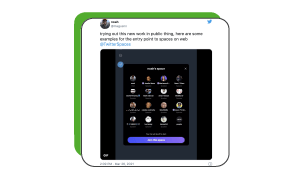 Twitter is super flexing with its new Spaces audio room option!
To outgrow Clubhouse, Twitter is currently working on bringing Spaces to desktop, which will enable users to join a Spaces session right from their PCs, not just mobiles.
This is certainly exciting as it will offer broadcasters more room for polished content and will certainly expand Spaces' reach and usage.
@Clubhouse, you should be careful – Twitter is coming after you strong this time!
Learn more here