Twitter to introduce dedicated tab for Spaces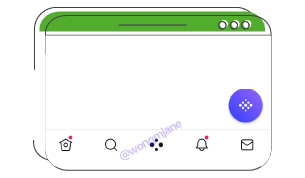 Earlier this month, Twitter unveiled its plans to overhaul Spaces with tests of features such as private rooms & scheduling tools. This time a new test was spotted in the wild which could make a big difference for the audio-only experience on the main Twitter platform: a dedicated tab.
There are two aspects to focus on with this potential update.
The first one is that if Spaces were to succeed, users need to not only use it, but to make it a part of the core Twitter experience. The platform needs to make sure the audio feature is tightly integrated with the rest of the service so users don't feel like they are missing out by not spending time in Clubhouse. A discovery tab could be the solution, since currently Spaces only show when they are active and in the Fleets section at the top of the app, which is probably not the most ideal place—especially if you don't really care about Fleets.
The second aspect is the overreliance from platforms on "dedicated tabs". For the longest time Instagram barged on having users get addicted to Reels by placing a dedicated Reels tab at the center of the app. Was it successful? We don't know, go ask TikTok. Having a dedicated tab, then, is not going to be enough. Twitter needs to power it with a strong recommendation and highlight system. But an actual good one! Two weeks on and Instagram still recommends Irish dancing videos to us.
There is clearly a lot of work to do, but, if there is any platform showing unexpected promise lately, it is Twitter.
Learn more here