WhatsApp adds new tools for its Business app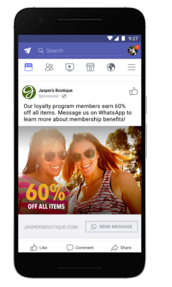 WhatsApp is introducing new tools to help businesses and users connect with each other better – a new revenue potential that will put more dollars in Facebook's pocket.
First off, a WhatsApp chat icon will be added to Facebook News Feed ads, which will help boost awareness of businesses' Whatsapp presence. Facebook explains it as follows:
"Over the last several months, we've been testing ways to help people start a WhatsApp chat from ads they see on Facebook. Facebook Ads that click to WhatsApp help people discover your business, help you engage with them to explain your product or service and grow a relationship. When a person taps on an Ad that clicks to WhatsApp, they will be transferred to a prefilled WhatsApp chat where they can message your business quickly."
Secondly, the WhatsApp Business app rolled out new updates aimed to help connect organizations with WhatsApp users, namely:
Request helpful information: When you need a shipping confirmation or boarding pass, you can give your mobile number to a business on their website, on their app, or in their store to send you information on WhatsApp.
Start a conversation: You may see a click-to-chat button on a website or Facebook ad to quickly message a business.
Get support: Some businesses may provide real-time support on WhatsApp to answer questions about their products or help you resolve an issue.
On top of this, to maintain a level of control over business messaging and generate business revenue, WhatsApp will allow businesses to reply to messages from users for free for up to 24 hours, but it will start charging them per message sent after that.
It would be interesting to see how businesses will start utilizing the new features and explore Whatsapp Business's future potential.
Read more here.