Facebook improves Messenger Rooms customization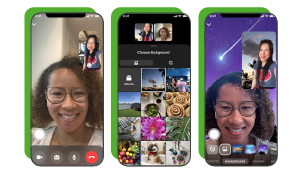 Do you like Zoom's custom backgrounds but love Messenger Rooms' functionality?
Well then, good news for you!
Facebook's latest Messenger Rooms update will allow you select any picture from your gallery as your background—in addition to Messenger's AR effects and immersive 360-degree backgrounds.
But that's not all! The new update includes new discoverable features for mobile. Here's the list:
Discover Rooms: Rooms that you have been invited to will show up at the top of your Chats tab in your Inbox.
Create Rooms: Ability to create a room is front and center in your Chats tab.
Edit Rooms: You can create a room with a default, suggested, or custom activity, set a future start date, and customize your audience selection.
Manage Rooms: View, join, and edit the rooms you have created. You can also invite more people to a scheduled room and delete a room you don't want to be active anymore.
Share Rooms: Send notifications to ensure your invited friends don't miss out.
Learn more here.