Facebook tests newsletter platform 'Bulletins'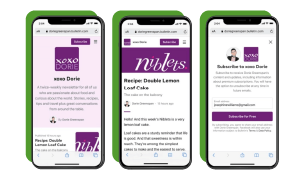 The rising popularity of newsletter platforms for journalists and independent writers is not a secret. In fact, just last February, Twitter had recognized the business opportunity of the format with its acquisition of the Revue newsletter platform with the aim of incorporating its service with the upcoming premium subscription.
This time it's Facebook who is joining the party with 'Bulletin', its own proprietary newsletter platform. If you are an independent writer invested in Facebook services, then you will be able to share your newsletter content in the News Feed and dedicated discovery placements for easy discovery.
Facebook, however, thinks of newsletters as only one of the many tools available for independent creators:
Through Bulletin, we want to support these creators, and unify our existing tools with something that could more directly support great writing and audio content — from podcasts to Live Audio Rooms — all in one place.
To do so, Facebook will offer creators multi-year licensing deals and give them all their Bulletin revenues, all handled in Facebook Pay.
So far Bulletin is available for a small group of testers in the US, but we will be looking forward to seeing how Facebook incorporates eCommerce opportunities into their creative offerings.
Learn more here