Twitter to introduce their own 'Close Friends'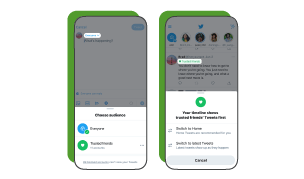 Twitter is a-changing. And that's mostly good news—if you consider the eventual convergence of all platforms' features a positive development, that is.
This time the bird platform is taking inspiration from Instagram's 'Close Friends' feature from Stories to develop 'Trusted Friends'. The still-in-development tool will – you guessed it – allow you to tweet to only a subset of your followers that you consider to be in your closest circle. Nothing new here.
What's interesting and noteworthy, though, is that Twitter is taking it a (small) step further with a feature called 'Facets'. Although still in development, 'Facets' will allow you to select a variety of different groups to tweet to.
Basically, Twitter will allow you to embrace your split personalities. From a Twitter designer:
Embracing an obvious truth: we're different people in different contexts (w/ friends, fam, work, public).
Facets, an early idea, lets you Tweet from distinct personas within 1 acct. Others can follow the whole acct … or just Facets they're interested in.
We will keep you posted with updates!
Learn more here