Google launches site documenting quarantine life with data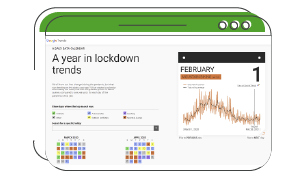 As the ongoing pandemic persists – there's no question that this period of human history warrants its own periodization – the "COVID years", if you will. And who better to document it than Google?
Called "Lockdown Trends", Google's new and colorful statistics site illustrates the drastic changes brought about by the pandemic and subsequent social distancing and lockdown. In no recent time has the world seen so many people at home, and well, it shows.
Despite being only US-based for now, this tool will be of great importance – not only for advertisers, but for historians and sociologists trying to spot wider trends and changes in social behavior.
Any guesses as to what it looks like? Check it out here.